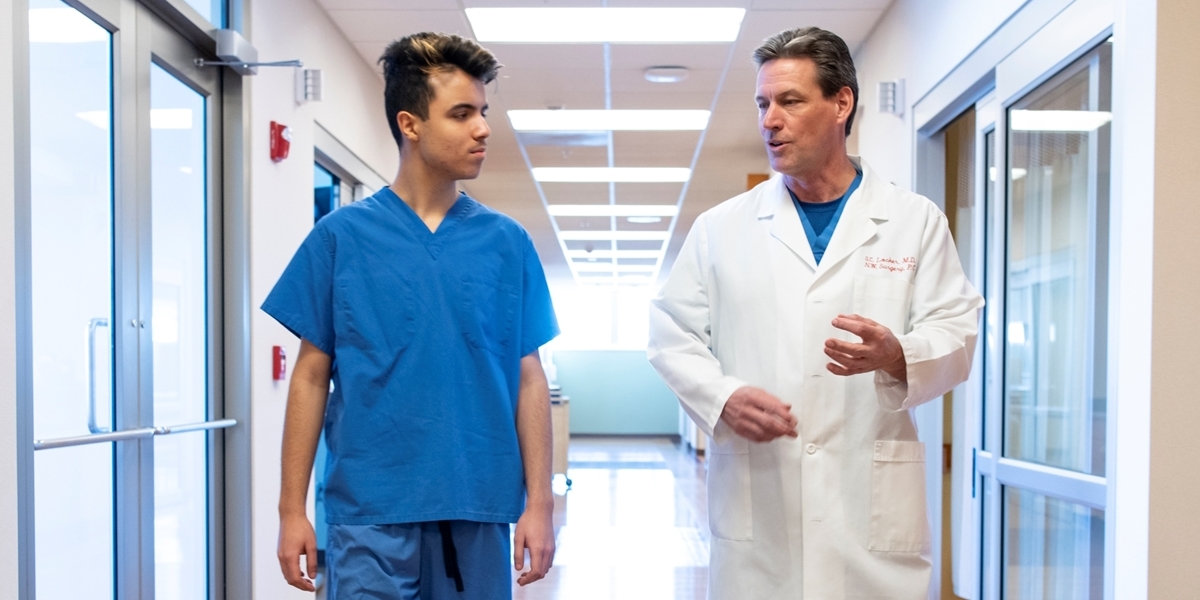 STEM & Health Professions
Raider Day Friday, Nov. 3 | 8:15 a.m. to 3:30 p.m.
Visit Northwestern during a Raider Day specifically designed for high school juniors and seniors interested in STEM and health professions careers. Your time on campus will provide:
Variety
In a single day, you can explore multiple areas in STEM and the health professions, including:
Connections
You'll have the opportunity to get to know the professors who will be teaching your classes—as well as current students in Northwestern's STEM and health professions programs—during a majors fair, lab rotations and lunch.
Hands-on experience
You can try out equipment and procedures yourself when you visit Northwestern's nursing, human performance, and/or human anatomy labs. You can also learn about cancer cell research being conducted by NWC professors and students; discover the methods field biologists use to identify animals and their ecological roles; test your analytical thinking in a math problem-solving exercise; or try your hand at some computer coding.
( Note for parents: These lab rotations are designed to introduce students to Northwestern's learning opportunities. Parents are welcome to attend, but you will likely be on the sidelines and/or outside the actual lab space. There may time to see things for yourself when the rotation time nears its end.)
Physics is the study of fundamental forces that drive the dance of all matter and energy in the universe. One of these includes the force from an electric field which will manipulate the very atoms around it. This lab will show you how you can use simple materials mixed with a little bit of defying gravity and some beautiful equations to calculate the number of extra electrons on a piece of tape.
This lab is available during Lab Rotations 2 & 3.
Whether it's a laptop, a tablet or a smartphone, computers are a big part of our everyday lives. Many people know how to use the software or apps found on their device, but far fewer people know how to create their own programs. Discover the basics of coding by developing a simple computer game, and find out how coding can have a profound impact on the world around us.
This session is available during Lab Rotation 1.
In 2008, the Nobel Prize in Chemistry was awarded for the discovery and development of the green fluorescent protein GFP. This protein naturally fluoresces under UV light and has become an extremely useful tool for biochemical experimentation. In this lab, we will see how GFP can make bacteria grow. We will also watch the fluorescent protein migrate through a chromatography column as we purify it from the glowing bacteria.
This session is available during Lab Rotation 2.
Knowledge of human anatomy is essential in the preparation for any health-related field. In this lab, you'll interact with Northwestern's virtual dissection tables and view real human organs from one of the human donor bodies. The lab will begin with an overview of the functions and features of the 3D anatomy tables that utilize a touch-screen interface to allow students to manipulate a virtual cadaver and view anatomical structures in 3D. You'll then have an opportunity to gain hands-on experience with the 3D anatomy tables through guided activities on the virtual table. Students will also view real, human organs and have the chance to hold and inspect them.
This session is available during all three lab rotations.
The Human Performance Lab is equipped with tools to test the physical fitness of the general population and the athletic performance of collegiate and elite athletes. Body composition, aerobic fitness/power, and muscular strength are just a few of the variables of interest to students in this area. Northwestern kinesiology students will demonstrate a body composition analysis with an underwater weighing test, perform a VO 2 max test with a metabolic cart, and conduct a Wingate test to measure power output. Be ready to test your vertical jump and anaerobic power!
This session is available during Lab Rotations 2 and 3.
Mathematics is a dynamic enterprise that thrives on teamwork and effective communication of ideas. During this session, you'll tackle problems that require little in the way of a specific mathematical background but much in the way of analytical thinking.
This session is available during Lab Rotation 3.
The nursing simulation center provides a safe environment for nursing students to practice their skills and prepare for actual practice as a nurse. Along with a brief tour of the center, you'll experience hands-on learning with "Apollo" (a human patient simulator) and several other real-life learning opportunities.
This session is available during all three lab rotations.
Biodiversity is important for human flourishing, and knowing about other creatures helps us to be better caretakers of God's good creation. In this lab, you'll learn to identify local trees, explore some of the unusual plants living in the greenhouse, and participate in succulent propagation.
This session is available during Lab Rotation 1.
One of the benefits of a chemistry major at Northwestern College is that students have an opportunity to do research alongside a professor. Instead of hearing from our professors, you'll hear from those students, who will share about research they have conducted, things they have learned, and how their research is helping them reach their goals.
This session is available during Lab Rotation 3.
Using a variety of skins, skulls and skeletons from our collections, you'll explore how different taxa of animals morphologically differ from each other. You will also learn about ecological research opportunities at NWC.
This session is available during Lab Rotation 2.
Info about Northwestern′s science building
Finally, you'll tour our $24.5 million  DeWitt Family Science Center, which opened in January of 2019.
Register to attend the STEM & Health Professions  Raider Day
---
Why study STEM and health professions at NWC?
80% of Northwestern graduates who continue on to medical school are accepted the first time they apply (compared to a 45% national med school matriculation rate).
100% of Northwestern′s 2020 and 2021 BSN-credentialed nursing graduates pass their board exams on their first attempt.
100% of Northwestern athletic training majors pass their board exams (including 75% on the first attempt).
Research experience involving the sequencing of DNA genomes is embedded into two courses taken by first- and second-year biology students.
Northwestern's Human Performance Lab is equipped with a BodPod body composition tracking system, metabolic carts, cycle ergometers, and Exertech underwater weighing tank.
Northwestern's athletic training program gives students hands-on experience, as early as their sophomore year, working under the supervision of team doctors and certified athletic trainers to care for and rehabilitate Northwestern student-athletes.