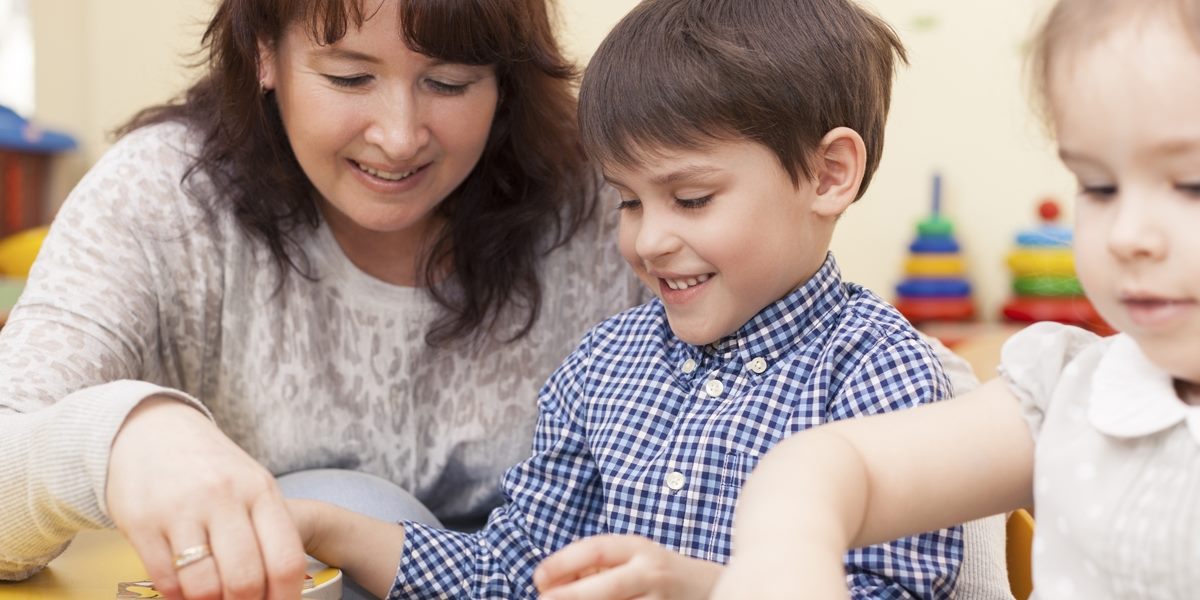 Bachelor of Arts in Early Childhood
credits  32 (minimum) | cost/credit  $325 (Fall 2019 $335) | completion  as few as 2 years | Next start July 1, 2019
Prepare for career opportunities in early childhood settings by completing your bachelor's degree online. Through Northwestern's Bachelors of Arts in Early Childhood program, you will gain knowledge in child development, assessment, behavior and current policy and be prepared to create meaningful learning experiences for every young child. Build on what you already know and become better equipped to address student needs and collaborate with co-teachers, parents, and peers. Take relevant courses and apply new strategies immediately in your teaching environment.   
The B.A. Early Childhood program will qualify you for early childhood education roles (including paraprofessional and lead teacher positions) in a variety of settings, including:
Head Start programs
Child care centers
Child development homes
Infant/toddler and preschool programs
Before- and after-school early childhood programs (birth through age 8)
Regional and state and education agencies (AEAs, IAAEYC)
---
100% online. 8-week courses. New opportunities.
Earning your degree doesn't have to cost you time away from your other responsibilities. Northwestern College's online Bachelors in Early Childhood Education allows you to log into classes and complete your coursework whenever it's most convenient for you. Take one 8-week class at a time and balance your work, school and life schedule. 
Educators with an early childhood degree are also highly employable. Research shows that teachers with more education offer higher quality programs with more positive child outcomes. Northwestern's affordable bachelor's degree program will provide opportunities for employment, job changes and promotion.
---
Financial aid opportunities
T.E.A.C.H. Early Childhood Scholarship
Educators pursuing a bachelor's in early childhood may be eligible for a T.E.A.C.H. Early Childhood Scholarship. The scholarship program provides the early childhood workforce with educational opportunities. This comprehensive scholarship includes a significant portion of tuition and textbook costs, travel/Internet stipends, and paid time away from work. The majority of your bachelor's degree could be funded through this program. For information or to apply, visit the T.E.A.C.H. website.
Child Care WAGE$ Program
Child Care WAGE$ ® IOWA (WAGE$) is a salary supplement program offered by the Iowa Association for the Education of Young Children (IAEYC). As with T.E.A.C.H. IOWA, WAGE$ is a licensed program of the Child Care Services Association. WAGE$ offers salary supplements (also called stipends) to the early care and education workforce based on an individual's level of formal education and commitment to a program. With a bachelor's degree in early childhood, you may qualify for a higher WAGE$ level ($2900 annually compared to $1800 with an associate's degree). For more information visit the WAGE$ website. View the map of qualifying Iowa counties to determine your eligibility for this program. 
FAFSA
Students in online programs may be eligible for federal and/or state financial aid. To determine your eligibility and award amount:
Complete your FAFSA online using Northwestern's institutional code: 001883
Upon acceptance into an online program, you will complete Northwestern's financial aid request form, and our financial aid specialist will help you with your financial plan. 
---
Program requirements
Incoming students must have an associate's degree (AA or AS) or higher and may easily transfer earned credits toward the Bachelor of Arts in Early Childhood program. 
Students in the B.A. Early Childhood program will complete the early childhood core courses (32 credits) and meet requirements for Northwestern's undergraduate education core either through the transfer of equivalent course credits from another institution or by taking such courses online at Northwestern. Contact an enrollment counselor to see how your previous courses will transfer.
Practicum experience and clinical practice are tailored to your schedule and may be partially completed in your own early childhood workplace.
Early Childhood Core Courses (32 credits):
ECE 305 -
Child Observation and Assessment
In this course, participants will learn how to implement a system of ongoing child assessment that is systematic, comprehensive and feasible in order to make sure that children make the progress necessary to be ready for kindergarten. Participants will first understand the importance of and strategies for planning and preparing for an effective system of ongoing child assessment. Participants will learn about and practice using four methods of effective ongoing assessment to inform their teaching and improve children's learning. This course will also provide information and implementation opportunities for individualizing ongoing assessment strategies for children who are dual language learners and children with special needs. Prerequisite: Admission into the Bachelor of Arts in Early Childhood program. (4 credits)
ECE 310 -
Resiliency and Wellness for Educators
The purpose of this course is to teach you how to be a resilient educator. Resilience is the ability to survive and thrive. It is not only about your ability to positively adapt in the face of adverse or challenging circumstances (that is, survive), but it is also about learning the positive skills, strategies, and routines that enable you to live a happy, fulfilling, and successful life (in other words, thrive). This course will help give you the permission to take care of yourself in order to optimize your effectiveness as an early childhood educator. This captures the notion of teaching from the inside out-a phrase that highlights the importance of promoting core resilience skills, strategies, and routines among early childhood educators. In turn, resilient educators are more capable of creating and maintaining nurturing, supportive, and effective learning environments while optimizing their own well-being and love of the profession. Prerequisite: Admission into the Bachelor of Arts in Early Childhood program. (4 credits)
ECE 320 -
Positive Behavioral Support for Young Children
This course utilizes evidence-based strategies for promoting social and emotional development and preventing and addressing challenging behaviors in preschool-aged children. Through course readings, discussions, activities, and related experiences, participants will learn about a variety of these research-based practices. Prerequisite: Admission into the Bachelor of Arts in Early Childhood program. (4 credits)
ECE 330 -
Supporting Language and Literacy Development in Preschool
This course is designed with two key learning objectives in mind. First, this course will increase learners' knowledge about how children's language and literacy skills develop between ages 3 to 5 and the ways in which these skills lay a foundation for later reading success. Second, learners will be introduced to key practices that promote explicit and systematic instruction. Learners will also participate in field-based assignments where they apply this learning in their own settings. Prerequisite: Admission into the Bachelor of Arts program. (4 credits)
ECE 400 -
Supporting Dual Language Learners
This course focuses on the language, reading, writing, and communication development of children who are dual language learners (DLLs), ages birth-to-five years. Connections are made between assessment and instruction that promote early language and literacy learning for children who are DLLs. Emphasis throughout the course is placed on fostering language and literacy learning by building on the family and community connections of young children who are DLLs. Prerequisite: Admission into the Bachelor of Arts in Early Childhood program. (4 credits)
ECE 420 -
Engaging Interactions and Environments
This course will increase learners' skill in creating effective classroom environments and interactions by providing rich opportunities to learn about and see examples from other classrooms. Learners will also complete field-based assignments where they apply this learning in their own settings and receive feedback focused on ensuring they can enact the practices they are learning about. Prerequisite: Admission into the Bachelor of Arts in Early Childhood program. (4 credits)
ECE 425WI -
Children's Health and Well-Being
This course explores topics related to health and well-being and focuses on teaching practices, classroom activities, partnerships with families, and program policies to ensure that all children are healthy and ready to learn. Prerequisite: Admission into the Bachelor of Arts in Early Childhood program. (4 credits) (Writing intensive)
ECE 430 -
Learning with Digital Media in Early Childhood
Although infants and very young children do not learn from digital media such as television and media, there is evidence that preschool-aged children can. Young children can learn basic literacy skills, mathematics skills, and develop interest in science from engaging with digital media. Instructional practices can enhance learning from media. Specifically, young children's learning is enhanced when adults co-view or co-engage with young children in ways that foster sustained attention to aspects of media that are intended to promote learning. Prerequisite: Admission into the Bachelor of Arts in Early Childhood program. (4 credits)