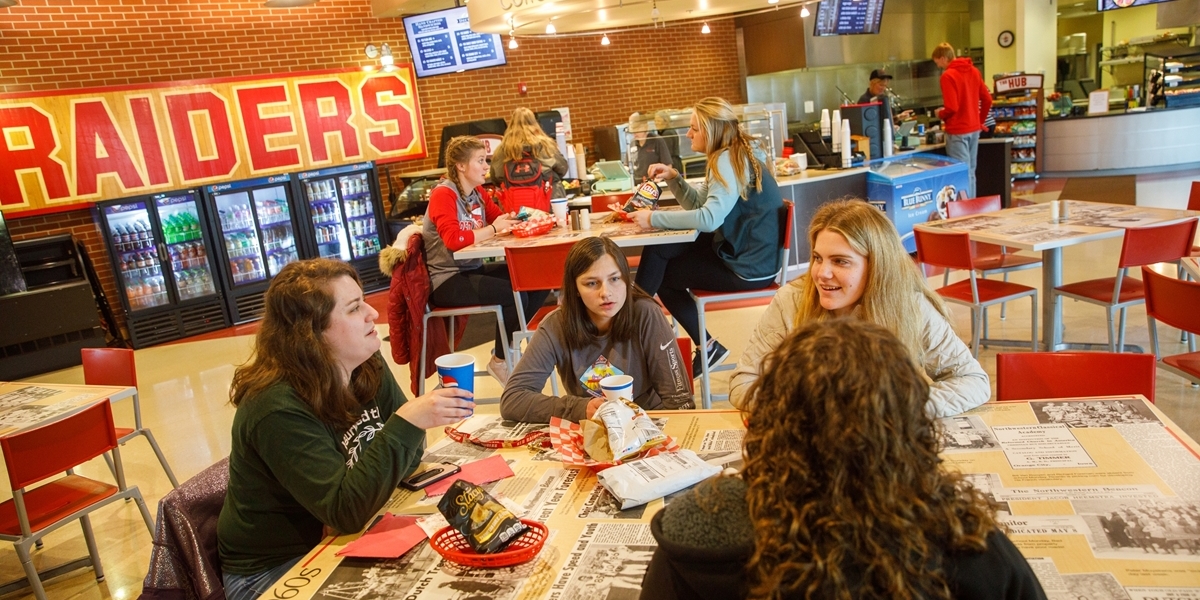 Dining services
Enjoy great nutritious food while developing lifelong friends around the table! The staff of Northwestern College Dining Services looks forward to nurturing great memories as you pursue your hunger to make a difference in the world. We offer multiple meal plan options so you can pick the plan that best suits your needs. The food is delicious, healthy and available at convenient hours 7 days a week. Vegetarian, gluten-free and other menu items are available for those with special dietary needs. The dining services staff is proud to serve you at the campus dining locations listed below.
Offering an incredible selection of food that will keep you coming back, the all-you-care-to-eat setting provides you with a fresh and customizable dining experience to satisfy your nutritional preferences. Enjoy homestyle favorites as well as international choices that will stretch your curiosity and palate. Vegetarian and allergen-sensitive selections are always available for you to choose from.
 
Breakfast
Lunch
Dinner
Monday through Friday
7 to 9 a.m.
11 a.m. to 1:30 p.m.*
*Tuesday lunch is 11 a.m. to 2 p.m.
5 to 7 p.m.
Saturday and Sunday
 
11:30 a.m. to 1 p.m.
5 to 6:30 p.m.
---
The Hub, as it's known to students, provides great grab-and-go and dine-in experiences, offering items from the grill, handcrafted pizzas and custom-built sandwiches or healthy salads. The Hub is a great meal plan addition to help navigate meals between your academic and co-curricular schedules. Open from morning until late night Monday through Friday and during evening hours on the weekend, the Hub also hosts live music, poetry slams and more.
---
Common Grounds café in the DeWitt Learning Commons provides your favorite selections of fresh-brewed or custom-made hot and cold drinks. Grab-and-go breakfast and lunch items are available for you as well.