Northwestern sport management majors get behind the scenes experience at Super Bowl LII
Friday, February 9, 2018
Senior sport management majors Josh Hornstra (Lynden, Wash.) and Conner Ubben (Conrad, Iowa) had what some may consider the opportunity of a lifetime–they worked in the official NFL Shop at Super Bowl LII, held in Minneapolis on Feb. 4.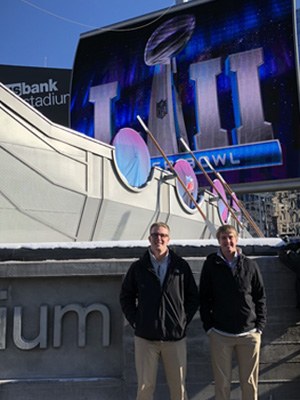 What did your "behind the scenes" experience include?
Conner: On the day of the Super Bowl, we arrived at 9:30 a.m. at the University of Minnesota Field House where we were checked in and received our credentials. We were then shuttled to the stadium where we went through a security checkpoint. We got into the stadium around 10:30 a.m. and went to the NFL Pro Shop. From there we were given our jobs as cashier assistants and instructed what to do. It was our job to help bag items and answer questions customers asked. We made conversation and assisted in a variety of needs, from running items back to their locations when they were returned to removing the security tags on the big ticket items. It was extremely busy from when the gates opened at 1 p.m. until kickoff. It slowed down during the game and got very busy again after the game. We came across some celebrities such as Tony Dungy, the commissioner of the SEC, and Randall Cunningham. We finished our shift a little after midnight.
Josh: We worked in the NFL Shop, located in the Vikings team shop at section 101 in U.S. Bank Stadium. We assisted customers with their purchases of Super Bowl LII apparel, programs and anything else you can think of. We came into contact with hundreds of fans, and our number one priority was to make sure those fans had the best experience they've ever had at a sporting event. We were able to have a 20-minute break for food, and Conner and I spent that time getting food as quick as possible and then watched the game in person, which was phenomenal.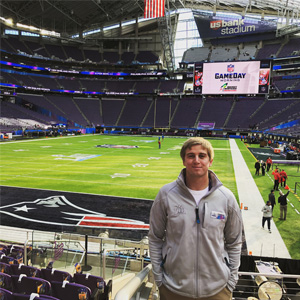 How were you selected for this opportunity?
Conner: We completed an application I received through an email from a job site I use to track job openings with professional sports organizations. I applied and received an email the next day. I set up an interview and told Josh about the opportunity as well.
Josh: Conner and I are interns for the Sioux Falls Skyforce. Because we are both sport management majors and work for an organization like the Skyforce, they felt like we would be perfect for the job and we were selected to be part of the team.
Is there a highlight from your "behind the scenes" experience that stands out?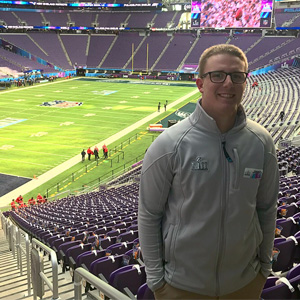 Josh: Just being able to be at the Super Bowl in person made the entire day a highlight, but there were some special moments I thoroughly enjoyed. The first one was that I was able to sell a few hats to Randall Cunningham, a former Eagles quarterback. It was always a highlight when people mentioned how wonderful their experience had been due to the friendliness of the staff, because it helped remind me that I wasn't just there for my own experience, but that I was helping make everyone with whom I came into contact with have a great experience as well.  Lastly, the biggest highlight I had was that after all of the fans had left the building, Conner and I and a few other people who we met that day were able to go down to the field and walk around, see both the Patriots and Eagles locker rooms, and walk up on stage where the players were interviewed.  This was long after all of the players had left, but to be able to experience all of that was truly unbelievable.
Conner: Going into the winning team's locker room was extremely cool. It had not been cleaned up yet, so we were able to see how crazy the celebration was after the game.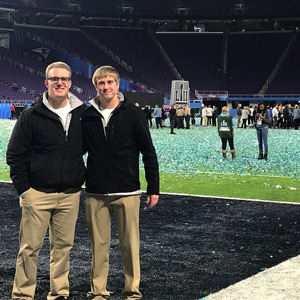 How did your Super Bowl experience tie into the classes you've taken as sport management majors?
Josh: My dream is to work for a professional organization, and with each class I've taken at Northwestern I have seen myself getting closer and closer to that dream. Being able to work at the biggest sporting event in American sports helped me take another step toward that goal. It would not have been possible if it was not for the education I have received from Northwestern and the foundation I have built through the classes I have taken as a sport management major.
Conner: It brought everything together. Just seeing the types of things we have been discussing in classes actually come to life on the biggest sports stage in America was pretty cool. We often talk about event management in our classes, and this showed us how much detail really goes into it. There are so many tiny things that add up to one big event. There are all kinds of sport management and other majors that are involved with something of this magnitude. It is pretty incredible to see how they can all mesh to make something great happen.