Agri-business major serves on advisory team
Friday, September 18, 2015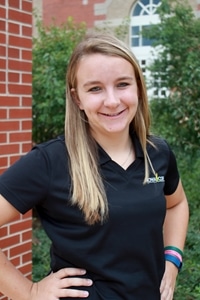 Natalie Te Grootenhuis, a senior at Northwestern College from rural Hospers, is serving on the Iowa Corn Collegiate Advisory Team. Comprised of 20 students from across the state, the group addresses issues related to agriculture and prepares students to lead within the industry. Majoring in business administration/agri-business and marketing, Te Grootenhuis was appointed to the position last October.
"The Iowa Corn Collegiate Advisory Team discusses different ways we can help promote agriculture in our own schools and across the state," Te Grootenhuis says. "We also help give a young person's view on many issues that are facing the corn industry." 
Te Grootenhuis brings experience and knowledge to the team. Last summer she served as the Iowa Corn marketing intern, an experience that further developed her interest in agriculture and allowed her to serve as an advocate for the industry. Te Grootenhuis says she has learned a lot from her experience.
"By being involved with the Iowa Corn Collegiate Advisory Team I have learned several things about agriculture, but most importantly I have learned how to be a young leader," Te Grootenhuis says. "I believe it is important for our generation to have a strong voice in agriculture because the industry is changing and advancing at such a rapid rate."
Bob De Haan, lecturer in agri-business, nominated Te Grootenhuis for the advisory team last year. He believes Te Grootenhuis has used her skills and abilities to represent Northwestern well.
"Natalie is an extremely dependable young lady possessing great drive and determination," De Haan says. "Natalie's past leadership skills working with SIYAC (State of Iowa Youth Advisory Council) and her love of agriculture made her an excellent candidate for this group who would represent Northwestern in a positive manner."
Te Grootenhuis is a 2013 graduate of MOC-Floyd Valley High School. She serves as the women's basketball team manager and an intramural coordinator for the college.