Northwestern students excel at regional theatre festival
Thursday, January 28, 2021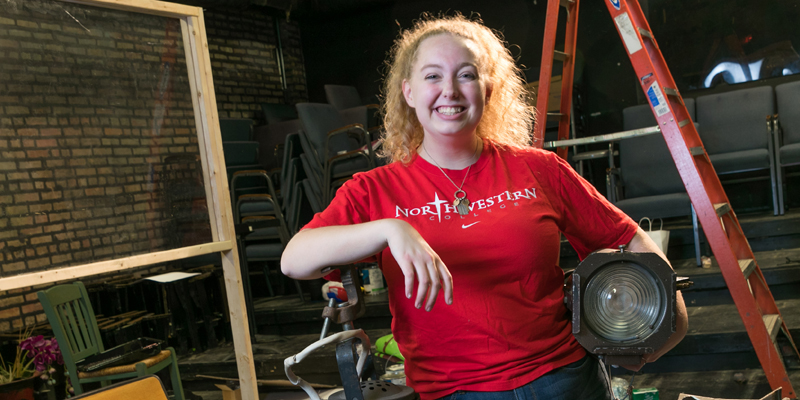 Northwestern senior Maren Taylor received a top lighting design award at the Region Five Kennedy Center American College Theatre Festival. 
Five Northwestern College theatre students received recognition at the Region Five Kennedy Center American College Theatre Festival (KCACTF) Jan. 16–24. Due to COVID-19, the regional festival was held virtually.
Maren Taylor, a senior theatre major from Spencer, Iowa, received Region Five's top lighting design award for her work on Northwestern's production of the musical "Bright Star." As a national winner, she will represent Region Five at the KCACTF National Festival in April, where her lighting work will compete with that of seven other regional winners.
Taylor was also awarded a scholarship for a one-week summer intensive offered by the Stagecraft Institute of Las Vegas, which was established to train practitioners in all areas of live entertainment.
Sofia Schaeffer was the Region Five winner for costume design, based on her work for the Northwestern production of "Jabberwocky," a children's play. Schaeffer is a junior theatre major from Spearfish, South Dakota.
In the Gary Garrison Ten-Minute Play competition, Rachel Smart earned honorable mention for her script, "Lethe," which follows a tormented soldier who happens upon a young child in the place between life and death. The two are forced to grapple with the pain of their previous lives as they ask themselves why one is rewarded with forgetting and the other is doomed to remember.
Smart, a junior English teaching major from Brookings, South Dakota, also won honorable mention during last year's Region Five KCACTF for her 10-minute drama "Columba."
Lastly, two Northwestern students were nominated to the Irene Ryan Acting Scholarship competition: Karisa Meier, a junior theatre education major from Badger, Iowa, for her role as Alice Murphy in "Bright Star," and Sierra Tumbleson, a sophomore theatre major from Trimont, Minnesota, for her role as the Princess of France in "Love's Labour's Lost." Their subsequent monologue performances made them finalists in the competition.
The KCACTF Region Five Festival is an annual event that includes undergraduate and graduate students from six Midwestern states.
---
Regarded as one of the best Christian college theatre programs in the country, Northwestern's features a collaborative, excellence-oriented environment committed to helping students develop their creative gifts for service in God's kingdom. Study with Northwestern's award-winning faculty in the outstanding facilities of DeWitt Theatre Arts Center.