Theatre professor stars in solo show
Wednesday, September 4, 2013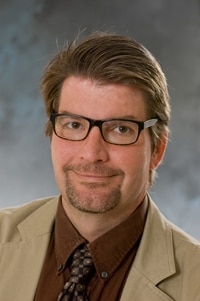 The Northwestern College theatre season will open with a solo show by theatre professor Dr. Robert Hubbard. "Christians Can be Sneaky," written and performed by Hubbard, will be presented Saturday, Sept. 21, at 7:30 p.m. in the DeWitt Center's England Theatre. The performance is free; seating is first-come, first-served.
During his North Dakota childhood, Hubbard says his parents forced him to attend church, even though as a sullen middle schooler, he resisted with tantrums, trickery and other junior high tactics. "Can God reveal himself during mandatory worship?" asks Hubbard, before showing how the Lord, indeed, works in mysterious ways.
"Christians Can be Sneaky" may spark conversations between teenagers and parents about worship as a tradition with transformative potential.
An experienced actor, director and playwright, Hubbard has performed solo shows around the country, including at fringe festivals in Minneapolis, Kansas City, Baltimore and New York City. He plans to perform "Christians Can be Sneaky" at fringe festivals next summer.