Northwestern College names vice president for enrollment and marketing
Wednesday, June 10, 2020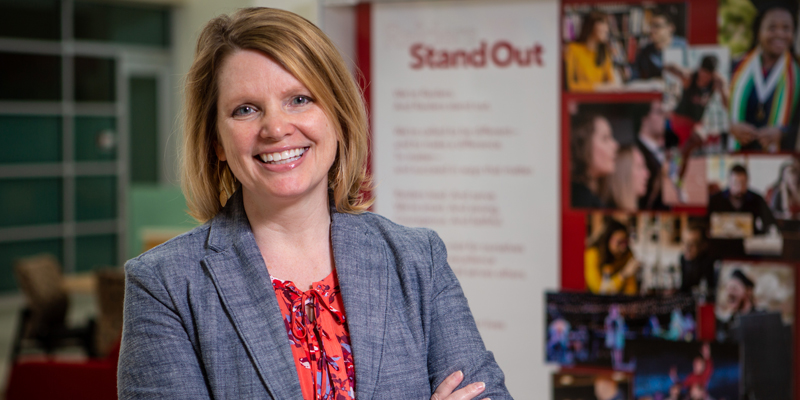 Northwestern College has announced the promotion of Tamara Fynaardt to vice president for enrollment and marketing. Fynaardt, who has worked in Northwestern's marketing and communications office for 25 years, will start her new position July 1.
Fynaardt will oversee the college's admissions, financial aid, and marketing and communications offices.
"Tamara is already looked to as an institutional leader by many," says President Greg Christy. "I've witnessed the respect her colleagues have for her, the expertise she brings to marketing and communications, and the strategic thinker she is."
Fynaardt started her career at Northwestern as an adjunct English instructor before transitioning to the marketing and communications office. She's served as a member of the college's Strategic Planning Committee for 10 years and has represented her colleagues as a member of the Staff Advocacy Committee.
Instrumental in several key areas of Northwestern's marketing and communications efforts, Fynaardt has coordinated several projects that have won awards from the Council for Advancement and Support of Education (CASE) District Six and the Higher Education Marketing Report.
One of the projects recognized by CASE was Northwestern's recent "Stand Out" branding campaign. Fynaardt led the team that developed Northwestern's brand promise and coordinated the development of creative materials.
"The Stand Out brand has been widely embraced internally and externally by Raider Nation," says Christy.
As the college's new vice president for enrollment and marketing, Fynaardt will continue to lead the branding efforts. "I want to be a brand champion for Northwestern, ensuring all campus departments know how to promote and embrace it," she says. "We have to be sure students experience what we promise."
Fynaardt earned a master's degree in English literature from Northern Illinois University and bachelor's degrees in English and secondary education from Dordt University. Prior to working at Northwestern, Fynaardt served as a marketing and public relations director at Advocate Health Care, based in Oakbrook, Illinois.
Fynaardt replaces Mark Bloemendaal, who will retire at the end of June after 39 years of service to Northwestern.