Northwestern College recognizes two with Inspirational Service Awards
Tuesday, May 10, 2022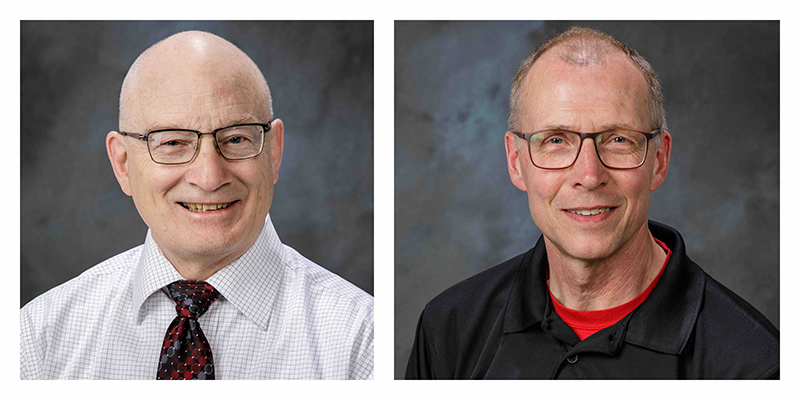 Dr. Paul Bartlett, professor of kinesiology, and Paul Kurtzleben, physical plant technician/electrician, are the recipients of Northwestern College's 2022 Inspirational Service Awards. Bartlett was chosen as the faculty recipient, while Kurtzleben received the staff award during the college's Celebration Banquet on May 9.
The awards recognize employees who go beyond excellence in their performance, have demonstrated a selfless commitment to service, and whose dedication to Christ is apparent in their daily work and interactions. A selection committee chose the winners from among candidates nominated by employees.
Bartlett is retiring this spring after 38 years on Northwestern's faculty. In addition to teaching, he was head wrestling coach from 1984 to 2006 and women's golf coach from 1985 to 1998. The chair of Northwestern's kinesiology department for 14 years, he led several study-abroad classes and sports ministry trips to the Czech Republic and Latin America.
 "In all my interactions with Paul, it has always been evident that he strives to see others with God's eyes and not his own," wrote Carrie Krohn, assistant cross country and track and field coach, in a letter of nomination for Bartlett. "He goes out of his way to be a friend to a stranger; he offers positivity when others are negative; and he listens with compassion and gentleness.
"I have traveled with Paul to the Czech Republic on three occasions," wrote Krohn. "Every time, I tease him that he is a different 'Paul' in the Czech. His eyes are brighter, his smile is bigger, and his love for others is even more apparent. I think this is because he knows the Czech has many unbelievers, and his love for Christ and for Christ's creation is just magnified there. It's as if Christ's light is shining right through Paul."
Kurtzleben has been on Northwestern's maintenance staff since 2002. A graduate of Northwest Iowa Community College, he previously worked at Advance Brands and Sioux Biochemical.
"Paul does so much behind the scenes to help Northwestern run on a day-to-day basis while looking at it as all part of the job," wrote maintenance staff teammate Jim Burmakow in a letter of nomination for Kurtzleben. "Paul has a huge servant's heart and is an individual who wants to help all of those around him whenever possible.
"Whether it be fixing a light fixture, repairing a motor on an air-handler or keeping the heating/air-conditioner units operating, he does it all with a smile on his face and a quick comment of humor," wrote Burmakow. "He goes above and beyond to do anything he can to keep things running. We would not have the luxury of a comfortable work environment at Northwestern College if it were not for Paul. He is such an inspiring individual, and his Christ-like approach and commitment to his job and Northwestern make him a person we all should feel very blessed to have a working relationship with."