Northwestern introduces 3+2 option for athletic training program
Friday, October 23, 2020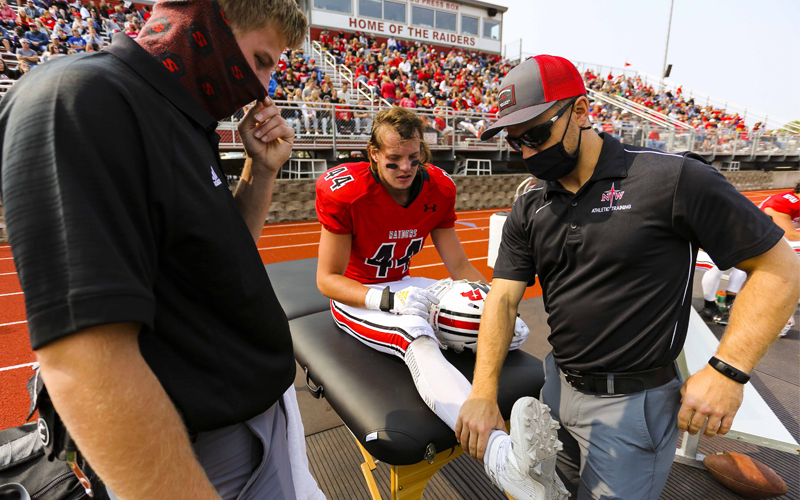 Northwestern College has created a 3+2 option for its new master's degree in athletic training program. The option enables students to earn both a bachelor's degree and the master's degree in five years.
"This provides students with an accelerated route into the master's program, saves them a year of undergraduate costs, and gets them into the athletic training workforce a year earlier," says Dr. Rick Loutsch, Northwestern's program director.
To be eligible to complete the 3+2 option, students must be enrolled in Northwestern College's exercise science major or an approved program at an institution that has an articulation agreement in place, like Wayne State College. Students may apply for admission into the master's program during the third year of their undergraduate program and will be considered for admission if they have met all of the requirements.
Once accepted into the master's program, students will become full-time graduate students that summer. During the program's first year, preapproved coursework will fulfill undergraduate program and graduation requirements that have been approved by Northwestern or the student's undergraduate college. Students who meet all of their undergraduate program and graduation requirements during their first year in the master's program will be eligible to graduate with a bachelor's degree from their undergraduate institution at the end of that spring semester.
Northwestern's program, accredited by the Commission on Accreditation of Athletic Training Education, will begin June 2021. The faith-based program will take two years, or six consecutive semesters, to complete. The first year is primarily residential, while there are options during the second year to be placed at clinical sites in different locations and do some coursework online. Following the completion of the program, Northwestern graduates will be well prepared to sit for the Board of Certification (BOC) exam to become certified athletic trainers.
Program Director Dr. Rick Loutsch says the program is focused on training through practice. "Students will get meaningful hands-on experience right away and throughout the program in a wide variety of settings," he says. With a cohort of about 15 students, Northwestern will be able to provide individualized attention.
On-site courses and labs for the master's program will take place in newly renovated facilities on the top floors of Van Peursem Hall alongside facilities for the new master's degree in physician assistant studies.
Acceptance is guaranteed for Northwestern College graduates who meet the program's admission requirements. The program also reserves two spots for Wayne State College students.
The application process is underway; all application materials must be submitted by April 1. For information or to apply, visit nwciowa.edu/AT or contact Danielle Vanderlei, enrollment counselor, at athletic.training@nwciowa.edu or 712-707-7359.