Northwestern receives approval to offer master's degree in athletic training
Wednesday, December 4, 2019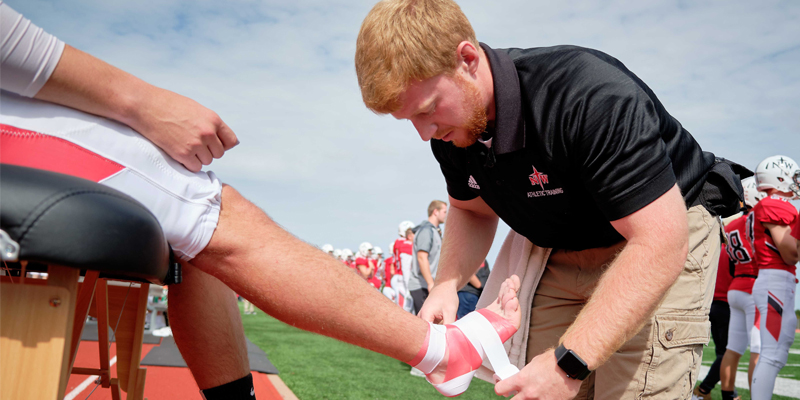 Northwestern College has received official approval to offer a master's degree in athletic training from the Commission on Accreditation of Athletic Training Education (CAATE). Classes for the first cohort of students will begin June 1, 2020.
"CAATE's decision is an affirmation of the high quality of Northwestern's athletic training program," says Dr. Nathan Phinney, vice president for academic affairs. "We're pleased to continue offering our students this career option at the graduate level."
The addition of a Master of Science in Athletic Training (MSAT) further expands the graduate programs offered by Northwestern, which also grants a Master of Education degree and will begin classes leading to a Master of Science in Physician Assistant Studies degree this coming summer.
Northwestern first began offering a bachelor's degree in athletic training in 2001. CAATE, however, is transitioning to a requirement that all accredited professional athletic training programs be graduate-level and result in the granting of a master's degree in athletic training.
"The whole program is being redesigned in response to this requirement," says Dr. Rick Loutsch, director of Northwestern's athletic training program. "The coursework will be graduate-level, and the clinical experiences are being revamped for students who—because they won't have undergraduate responsibilities—will be able to give their entire focus to their professional education."
In September, Northwestern hired Dr. Doug Maury to serve as the program's coordinator of clinical education. Maury holds a doctorate in athletic training from A.T. Still University.
Northwestern's faith-based MSAT program will take two years, or six consecutive semesters, to complete. "The first year is primarily residential," Loutsch says. "During the second year, there's an option to be placed at clinical sites in different locations and to do some coursework online."
Any student can apply to Northwestern's graduate athletic training program as long as he or she meets the prerequisites. Most applicants will likely have undergraduate degrees in exercise science. Acceptance is guaranteed for Northwestern College graduates who meet the program's admission requirements.
For more information, visit nwciowa.edu/athletic-training.
---
Northwestern College's Master of Science in Athletic Training (MSAT) is a faith-based six-semester program. The first four terms will focus on practical skills-based learning and clinical experiences at NWC and in the surrounding community. The final two terms of advanced clinical experiences and online coursework enable students to complete their clinical rotations in diverse settings around the country. Graduates will be prepared to sit for the Board of Certification exam to become certified athletic trainers.