Northwestern students to study in the Czech Republic, Greece and Italy this summer
Thursday, April 25, 2019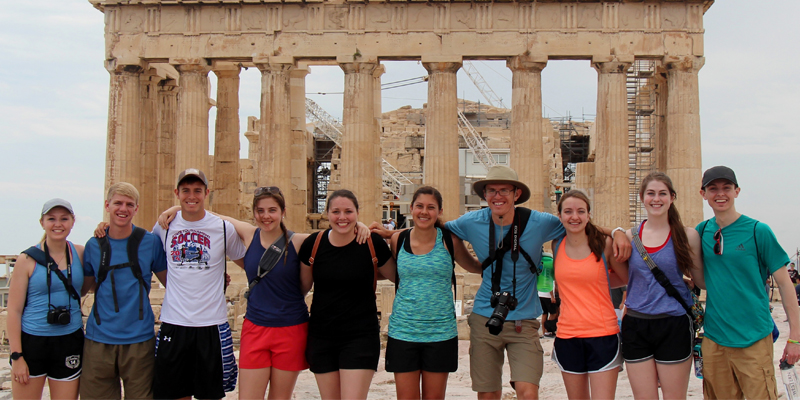 Northwestern College students will travel to the Czech Republic, Greece and Italy this summer as part of three study abroad programs offered by the college's global education office.
Kyle Ochsner, instructor in kinesiology and head strength and conditioning coach, will teach the Czech course. During their three weeks in that country, students will compare and contrast Czech sports, fitness and leisure pursuits with those in the U.S. Daily hikes and physical activity pursuits will be part of the schedule, as will the opportunity to interact with Czech college students while staying at a university. Members of the class will also tour a Czech Olympic training center, visit a town famous for its mineral water spas, and explore castles and villages.
A study abroad course for Honors Program students will examine Greek cultural and intellectual influences. Participants will learn how virtually every academic discipline—from art to politics, theatre to athletics, and science to religion—can trace its roots back to ancient Greece. Those taking the course will stay primarily in Athens and tour world heritage sites that include the Acropolis, Corinth, Mycenae, Meteora and the Oracle of Delphi. Dr. John Vonder Bruegge, co-director of Northwestern's Honors Program and an associate professor of biblical and theological studies, will teach the course.
The final study abroad course will explore religious beliefs and practices in Italy. Students will participate in a two-week spiritual pilgrimage that follows the journey of St. Francis from Assisi to Rome, and in doing so, will have the opportunity to examine their own faith. The pilgrimage will take students through rural Italy, where they will stay in hostels, homes and monasteries in small towns and villages. Morning and evening worship will be part of each day. Dr. Jason Lief, associate professor of biblical and theological studies, will lead the trip.
The study abroad courses are each worth four credits and fulfill the Northwestern Core cross-cultural studies requirement.