NWC kinesiology instructor, strength coach to receive award
Wednesday, April 25, 2018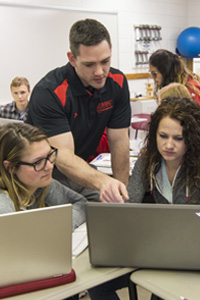 Korey Van Wyk, instructor in kinesiology and assistant strength and conditioning coordinator at Northwestern College, will receive an Early Achiever Award from the Nebraska Alumni Association on Thursday, May 3.
With the award, the Nebraska Alumni Association recognizes young graduates who have a record of outstanding achievements in a career and/or civic involvement. One recipient is chosen from each of the colleges at the University of Nebraska-Lincoln. Van Wyk, who graduated from UNL in 2012 with a master's degree in nutrition and exercise, is the university's College of Education and Human Sciences honoree.
"I'm extremely honored and thankful to be receiving this award because I owe so much to UNL," says Van Wyk. "The education I received, the learning experiences I had, and the connections I made with people were not only some of the richest of my life, but truly shaped who I've become and what I'm doing today."
At Northwestern, Van Wyk teaches kinesiology courses in strength and conditioning, nutrition, anatomy, personal training and general fitness. As a strength and conditioning coach, he is responsible for the design and implementation of physical preparation programs for several Red Raider athletic teams, including football, men's and women's soccer, wrestling, cheer and dance.
"Northwestern feels like a place I was always meant to be at. It's amazing to look back and see how God was seemingly grooming me for my role here," says Van Wyk. "From being on the ground floor of a progressive strength and conditioning program at Central College to pursuing nutrition at Nebraska, I feel like I was uniquely prepared for what I'm doing now. Those varied experiences allow me to give students a unique perspective as I aid them in the development of their careers.
"Most importantly, being at Northwestern allows me to openly and intentionally use those perspectives and experiences to prepare students to do God's redeeming work in the world."
Prior to attending UNL, Van Wyk earned a bachelor's degree in strength and conditioning from Central College in Pella, Iowa.