Northwestern College to celebrate student research with April 12 event
Monday, April 2, 2018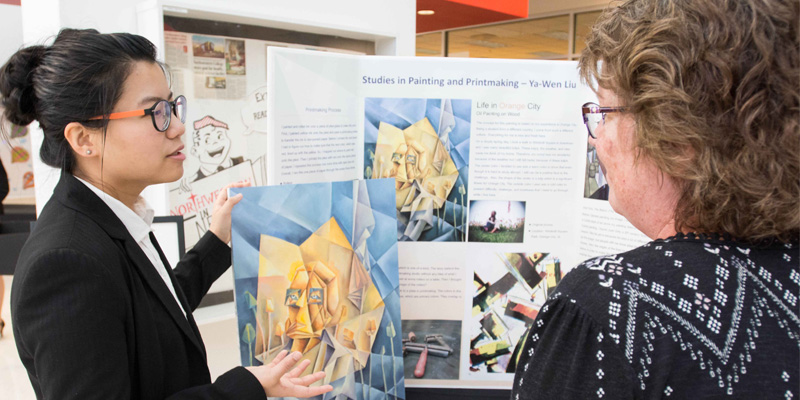 The scholarly work of 93 Northwestern College undergraduate and graduate students will be on display during the college's Celebration of Research on Thursday, April 12, from 11 a.m. to 1 p.m. in the Rowenhorst Student Center. The public is invited to attend.
"The goal of this event is to provide a setting in which faculty, staff, students, members of our community and the Board of Trustees can mingle with, learn from and encourage students in their academic research," says Dr. Mark Husbands, vice president for academic affairs. "It's an important milestone in many students' careers at Northwestern."
Students from a wide variety of majors have produced 33 individual and group research presentations under the mentorship of faculty. Among the topics are "The Art of Costume Design for Tina Howe's 'Museum,'" "Effects of Upper Elementary Grade Reading Buddies on Literary Skill Concepts Development in At-Risk Preschool Students," "Limited Atonement in 1 John 2:2," "The Effect of Inter-Health Care Facility Patient Sharing Networks on Clostridium Difficile Infection Rates," "How to Help Non-Profit Hospitals Serve Better," "Mentalizing and Mysticism: Do Theory of Mind, Absorption and Mysticism Predict Religious Belief and Prayer Intimacy?" and the results of Northwestern's unique SEA-PHAGES biological research.
"James 1:17 tells us that every good and perfect gift is from above," says Husbands. "For Christian professors and students alike, this means that intellectual and creative ability comes with a responsibility to glorify God in the faithful exercise of these gifts. The Celebration of Research is a wonderful example of this act of faithfulness. In effect, by offering the results of their scholarship to the greater Northwestern community, these students and their faculty mentors endeavor to serve Christ by helping us gain a stronger understanding of the beauty and truth of God in the midst of a world in need of redemption."