Northwestern College recognizes three with Inspirational Service Awards
Tuesday, May 8, 2018
Three Northwestern College employees have been recognized as recipients of the college's 2018 Inspirational Service Awards. The winners are Piet Koene, faculty; John Menning, staff; and Dr. Mike Wallinga, faculty/staff.
The awards recognize employees who go beyond excellence in their performance, have demonstrated a selfless commitment to service, and whose dedication to Christ is apparent in their daily work and interactions. A selection committee composed of faculty and staff chose the winners from among candidates nominated by Northwestern employees.

Piet Koene
Koene, associate professor of Spanish, translation and interpretation, has been at Northwestern since 2000. A state-certified court interpreter for Iowa and Minnesota as well as a nationally certified medical interpreter, he founded the college's translation and interpretation major and set up its simultaneous interpretation laboratory. Koene received the Northwestern Teaching Excellence Award in 2003 and was named the Iowa Professor of the Year in 2004.
"Piet is one of the most humble and competent professionals I know," says Rick Clark, instructor in Spanish. "His work ethic is incredible and his love for students is exemplary. He is an amazingly gifted teacher, and one of the qualities I appreciate most is how he models being a life-long learner.
"In our department, he has set the standard for what our classes should be like and, as chair, is constantly looking for ways we can improve our program. His door is always open and he is constantly willing to help any of us in any way needed. He has had a huge impact on my own teaching," says Clark.
Dr. Laurie Furlong, professor of biology, says she's appreciated Koene's leadership of the Faculty Status Committee. "Piet has modeled the culture of fair, rigorous and gracious evaluation of fellow faculty. Watching him negotiate sensitive issues with patience and grace has been truly inspirational."
Furlong says she also has learned from him how to be a good reviewer of faculty. "Piet took the time to get to know me and my teaching when he was my peer evaluator. His feedback was the most meaningful of any review I'd experienced. I was so impressed by the way he conducted my review that I use this as a template for my reviews of faculty."
John Menning
Menning has been Northwestern's learning disability service provider since 2009. He also pioneered the Northwestern NEXT program for students with intellectual or developmental disabilities and will be transitioning to the role of coordinator for that program this fall.
"Working with John has been inspiring," says Dr. Tom Truesdell, director of academic support. "He faithfully believes in the potential of every student, and he works tirelessly to help them realize that potential. Sometimes that means meeting with them outside of normal office hours, and sometimes it means simply praying for them, which he does consistently.
"John is one of the most positive and friendly members of the Northwestern community," says Truesdell. "He continuously brings warmth and joy to our department. John sees every student as a child of God and treats them as such. I truly can't think of a more deserving person for this year's Inspirational Service Award." 
Another colleague, Randy Van Peursem, science support services professional, says Menning's willingness to go out of his way to help a student with learning disabilities is well-documented. "Regardless of the disability, John is knowledgeable of their needs. He makes numerous phone calls with students and their parents to make sure things are running smoothly. His passion for those with disabilities is contagious and is evident by the financial support he has secured for the NEXT program.
"His words and actions are those of someone who loves Christ with all his strength, mind, heart and soul," says Van Peursem. "He is quick with encouragement, slow to frustration, rapid with mercy and fair in justice. He holds students accountable but does it in a loving, Christ-like manner that I wish I could emulate half as well."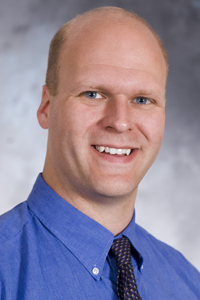 Mike Wallinga
Wallinga taught computer science at Northwestern from 2001 to 2010 before joining Interstates Control Systems as a data programmer and analyst. He returned to Northwestern in 2011 as the full-time director of institutional research and transitioned this year into a role in which he is an assistant professor of computer science and part-time director of institutional research.
"He is such an important asset to Northwestern and his work is seldom as appreciated as it should be—which is just fine with him," says Kendall Stanislav, assistant director of residence life. "Mike is consistently asked to work with predictive models for enrollment, sort through volumes of assessment data in order to find out how specific subsets of students are doing, investigate student success as it relates to the sequencing of courses they take as first-year students, and countless other requests that require his time, creativity and expertise.
"Mike has been the ultimate team player for Northwestern, and his willingness to serve the greater good was again put on display this year when he agreed to transition back into full-time faculty work," continues Stanislav. "Throughout that decision-making process, I heard him talk about what best served the institution and our students. That care for students is evident by how many of them regularly visit him in his office. My guess is that Mike would hate to be made the center of attention by receiving this award, and that is another example of his humility. He is someone who inspires me to be a better employee."
Wallinga also leads Northwestern's institutional assessment efforts, serves on the Strategic Planning Committee, and was co-chair of the institution's HLC Accreditation Work Group during its most recent reaccreditation process in 2016.