Northwestern faculty awarded grants for summer scholarship
Thursday, May 26, 2022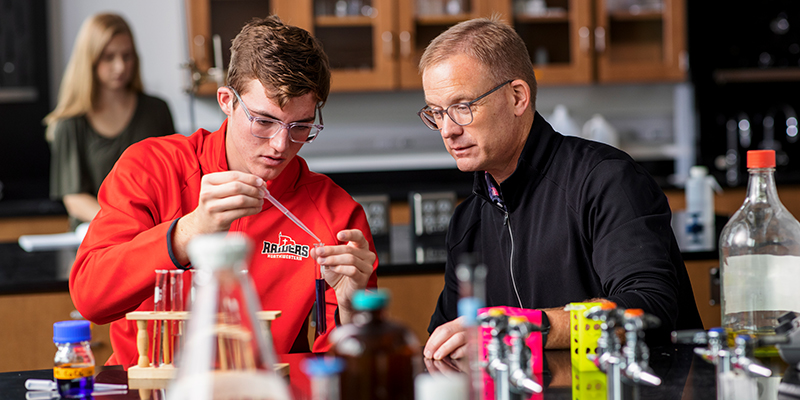 Eleven Northwestern College professors will conduct research and pursue further study this summer with funding from the Northwestern College Scholarship Grants program. The awards, ranging from $1,300 to $5,000, are designed to encourage the production of scholarship work for publication and distribution beyond Northwestern's campus.
Five science faculty will collaborate with students on their research projects.
Chemistry professor Dr. Dave Arnett plans to use fluorescence techniques to investigate small heat-shock protein species and their chaperone capabilities. He will also continue his research in designing and producing biosensors to measure the ionic strength of solutions. Jackson Hofland, a junior biology-health professions major from Orange City; Parker Fryar, a junior biology-health professions major from Waukee, Iowa; and Isaiah Gritters, a senior biology-health professions major from Pella, Iowa, will serve as Arnett's student assistants.
Dr. Emily Grace, physics, will travel to the Laser Teaching Center at Stony Brook University, New York, to collaborate on infrared optical tweezer instrument design to study DNA. Gabriel Andres, a sophomore biophysics major from Orange City, and Daniel Nordquist, a senior biology-health professions major from Alton, Iowa, will work to develop the DNA substrates to be used in the tweezer. This is the initial phase in a research project that has been proposed to the National Science Foundation for additional funding.
Drs. Laurie Furlong and Todd Tracy, biology, will be surveying ant communities, pollinating insects, and birds to evaluate ant community structure and biodiversity in the prairies of northwest Iowa and southeast South Dakota. Their student research assistants will be Gideon Fynaardt, a junior biology-ecological science major from Alton, Iowa; Thomas Tracy, a freshman mathematics and computer science major from Orange City; and April Van Tol, a junior biology-ecological science major from Rock Valley, Iowa.
Also in the biology department, Dr. Elizabeth Heeg will pursue training to operate Northwestern's Roche LightCycler machine and become familiar with quantitative real-time polymerase chain reaction analysis. She will be assisted by Kaytlyn Keeler, a senior biology-health professions major from Farson, Wyoming.
Another six Northwestern professors round out the list of grant winners.
Business professor Dr. Jiying (Jenny) Song will receive funds to support the publication of a new anthology for which she is first editor, "Servant-Leadership, Feminism and Gender Well-Being: How Leaders Transcend Global Inequities through Hope, Unity and Love."
Dr. Michael Kugler, history, plans to research the nature of "story" from the perspective of a Christian historian. His efforts will culminate in an article-length essay explaining "what might be 'true' about different historical stories, what makes such a story 'good,' and in what ways a story might be both 'true' and 'good.'"
In the nursing department, Dr. Karie Stamer, Nikki Wede and Carol Kleyer will develop evolving case studies for use throughout Northwestern's nursing curriculum. Through simulation and situational learning, students' decisions in evaluating these case studies will result in different outcomes. They plan to present this work as a poster or podium presentation at a national conference in December.
And finally, Dr. Sara Sybesma Tolsma, biology, will work to publish the annotations of phages previously identified, sequenced and annotated by Northwestern students in the international SEA-PHAGES research program.