Five join Northwestern College faculty
Thursday, August 27, 2020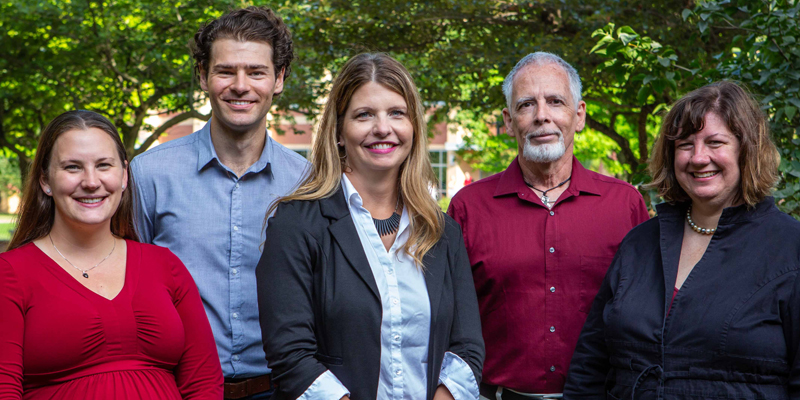 New faculty members at Northwestern College this fall include, left to right, Jolene Harris, Mark Tyler Miller, Dr. Angila Moffitt, Chris Tuey and Dr. Theresa Pedersen.
Northwestern College welcomed five new full-time faculty members with the start of classes this fall.
Two are joining the master's program in physician assistant studies. Chris Tuey, hired as a professor of practice, is licensed as a physician assistant (PA) in Iowa and board-certified by the National Commission on Certification of Physician Assistants. He earned a master's degree in physician assistant studies from the University of Texas Rio Grande Valley and worked as a PA at Rocky Mountain MS Center, Texas Tech Health Sciences Center and Kaiser Permanente Health Care. He also earned a master's degree in computer information systems from the University of Denver and began his health care career as a nurse in a burn unit.
Jolene Harris will teach in Northwestern's PA program and the undergraduate biology department as an instructor of anatomy. She previously taught at the University of Illinois College of Medicine Peoria, where she won awards for teaching, and at Creighton University, the University of Nebraska Omaha, and Ross University School of Medicine in Dominica. She is the co-author of "A Virtual Reality Teaching and Learning Platform for Medical School Education," which was presented at the 2018 Society for Information Technology and Teachers Education International Conference. She has a master's degree in clinical anatomy and a bachelor's degree in biology, both from Creighton.
Dr. Angila Moffitt and Dr. Theresa Pedersen will both teach in Northwestern's graduate and undergraduate education departments.
Moffitt will also serve as director of the college's online Bachelor of Arts in early childhood education program. She began her career as a special education teacher for elementary and high school students, then became a curriculum developer and trainer. Prior to joining Northwestern's faculty, she was the principal of Community Christian School and Daycare in Fort Dodge, Iowa, and taught graduate courses for the American College of Education. She is an Evangel University graduate who earned a master's degree and doctorate in educational leadership, curriculum and instruction from the University of Phoenix.
Pedersen will teach courses in educational leadership, special education and teacher leadership for Northwestern's Master of Education program. An experienced public school teacher-leader and administrator, she was a special education, English and inclusion teacher for schools in Illinois and Florida. She also served for two years as the principal of a K-12 school in Jacksonville, Florida, and taught at Northern Illinois University. Most recently, she was an elementary teacher for the Department of Defense Education Activity in Germany. A Loyola University graduate, Pedersen earned Education Specialist and Doctor of Education degrees from Liberty University.
Finally, Mark Tyler Miller is Northwestern's new assistant professor of theatre. Miller previously taught at the University of Illinois and served as the theatre program director at Fresno Pacific University. He has extensive experience as an actor, composer, playwright and fight choreographer. His one-man acoustic musical, "The Adam Bomb," debuted in 2019. Miller earned a Bachelor of Fine Arts degree in theatre with an emphasis in musical theatre from Cornish College of the Arts. He has a Master of Fine Arts degree in acting from the University of Illinois, Urbana-Champaign.