Psychology professor presents at conference
Wednesday, November 9, 2016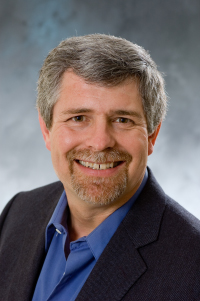 Northwestern College psychology professor Dr. Laird Edman recently presented at the Society for the Scientific Study of Religion (SSSR) conference in Atlanta.
Edman's presentation, "Theory of Mind, Divine Intimacy, and the Experience of Agentic Evil," was based on research conducted in collaboration with Northwestern alum Kirsten (McConnel '13) Lesage, a current doctoral degree candidate at the University of California–Riverside. His presentation examined the ways in which theory of mind, or how people understand what others are thinking and feeling, is related to the way people pray and experience the presence of God and evil spirits.
By polling students at Northwestern and the University of California–Riverside, in addition to participants from around the world who filled out an online survey, Edman's sample allowed his team to examine these issues in both non-white and non-Christian populations and compare the results with those of primarily white evangelicals.
"Our research indicates that people from the three great monotheistic religious traditions—Christianity, Islam and Judaism—tend to respond similarly in the way their theory of mind relates to their prayer practices," says Edman. "People who have lower abilities and tendencies in understanding other's minds are more likely to engage in prayer that is more distant and less personal than those with higher levels of theory of mind. This appears to hold more strongly for those who label themselves as more religious."
Co-authors of the presentation were Jake Vermeer, a 2016 Northwestern psychology graduate, and current members of Edman's student research team, including Corey Kundert, a senior psychology major from Orange City; Riley Harder, a senior biology health professions and psychology major from Sloan, Iowa; Rebekah Muilenburg, a sophomore psychology major from Orange City; Chris Sietstra, a senior accounting and psychology major from Boyden; and Molly Townsend, a senior psychology major from Tea, S.D.
The SSSR seeks to stimulate, promote and communicate social scientific research about religious institutions and experiences. The society's annual conference is attended by nearly 500 participants interested in sociology, religious studies, psychology, political science, economics and international studies. This year's president is 1968 Northwestern College alumnus Dr. Corwin Smidt, a senior research fellow at the Henry Institute for the Study of Religion and Politics at Calvin College.
Prior to joining Northwestern's faculty in 2002, Edman taught at the University of Minnesota, Iowa State University, Waldorf and Luther College. In addition to earning a Teacher of the Year award from Waldorf, Edman received Northwestern's Teaching Excellence Award in 2008.
A graduate of Luther College, Edman earned master's degrees in English literature and counseling psychology at the University of Notre Dame. He holds a doctorate in educational psychology from the University of Minnesota.