Northwestern philosophy professor presents at conference
Monday, September 17, 2018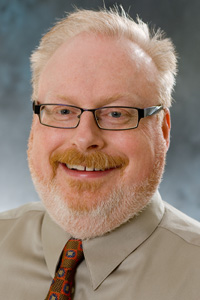 Dr. Randall Jensen, professor of philosophy at Northwestern College, presented at the Science Fictions, Popular Cultures academic conference in Hawaii Sept. 13–16.
In his presentation, titled "Shall We Play a Game? Teaching Philosophy Through Science Fiction," Jensen shared about the gamification course he developed and teaches at Northwestern. The course, titled Philosophy and Science Fiction, is structured like a role-playing game in which the content focuses on topics like virtual reality, time travel and artificial intelligence. His conference presentation focused on the teaching of philosophy through the lens of science fiction and the pedagogical opportunities afforded by the use of gamification in online and face-to-face classrooms.
"Both philosophy and science fiction are inspired by a sense of wonder, and they force us to see what is familiar in new and surprising ways," Jensen writes. "To explore them together enhances our appreciation of each."
Jensen was also invited to participate in two panels at the conference—one focusing on the modern influence of gaming, and the other on science, science fiction and the sacred.
The Science Fictions, Popular Cultures conference was hosted by the Center for Astronomy and Physics Education Research in conjunction with HawaiiCon. The conference offered attendees the opportunity to discuss the research, scholarship and creative endeavors of individuals working across the science fiction and popular culture fields.
A member of Northwestern's faculty since 1999, Jensen earned a doctoral degree in philosophy from the University of California, Los Angeles, and a master's degree in philosophy and bachelor's in chemistry from California State University, Long Beach.