Northwestern philosophy professor presents at national workshop
Wednesday, September 27, 2017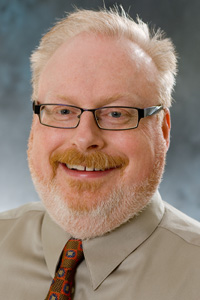 Dr. Randall Jensen, professor of philosophy at Northwestern College, presented at the Council for Independent Colleges (CIC) Consortium for Online Humanities Instruction's national workshop in Washington, D.C., recently.
Jensen was selected to present on his development of Northwestern's Philosophy and Science Fiction online course. Jensen received a stipend from the CIC to develop the course, originally designed for the classroom setting several years ago, into an online course. The online course was offered for the first time during the spring 2017 semester. At the workshop, Jensen demonstrated the class and explained the structure and reasoning of the course.
Harnessing the idea of gamification in the classroom, Jensen structures Northwestern's online Philosophy and Science Fiction course like a role-playing game in which the content focuses on topics like virtual reality, time travel and artificial intelligence. Students participate in quests and raids, class activities that earn them experience points. The number of points they earn determines their grade. "Taking something that's not a game and turning it into a game gives students a new way to learn," says Jensen.
Northwestern's Philosophy and Science Fiction course will be offered online again in the spring of 2018, and students from Northwestern and other participating CIC schools will have the opportunity to enroll.
The CIC consortium aims to support and strengthen humanities instruction by enabling professors from CIC member institutions to develop upper-level courses and teach them online, making them available to students from any of the consortium participants. The collective approach increases the viability of upper-level humanities courses by enrolling greater numbers of students than if the courses were available only as onsite options for students at a single institution.
A member of Northwestern's faculty since 1999, Jensen earned a doctoral degree in philosophy from the University of California, Los Angeles, and a master's degree in philosophy and bachelor's in chemistry from California State University, Long Beach.