Northwestern selected for consortium for online humanities instruction
Thursday, April 7, 2016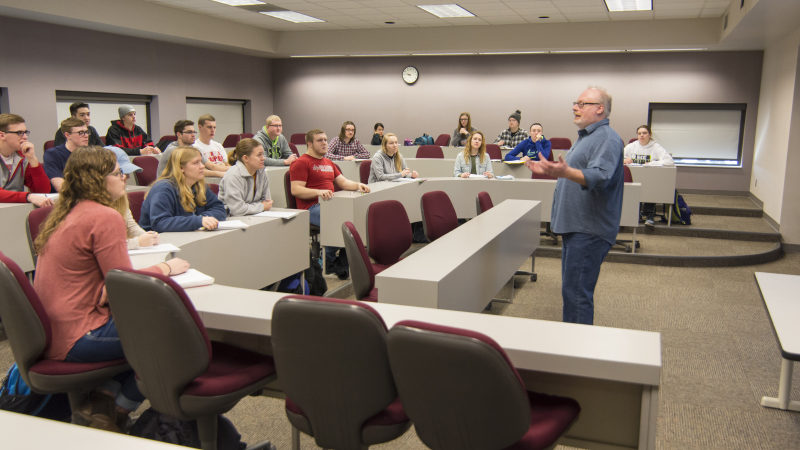 Dr. Randy Jensen will receive a stipend from the Council of Independent Colleges to develop an online course on Philosophy and Science Fiction.
Northwestern College is one of 21 institutions selected to participate in the Council of Independent Colleges (CIC) Consortium for Online Humanities Instruction II.
The CIC consortium is funded by the Andrew W. Mellon Foundation. It aims to support and strengthen humanities instruction by enabling professors from CIC member institutions to develop upper-level courses and teach them online, making them available to students from any of the consortium participants. The collective approach increases the viability of upper-level humanities courses by enrolling greater numbers of students than if the courses were available only as onsite options for students at a single institution.
"In addition, colleges the size of Northwestern often have a limited number of humanities professors mostly devoted to teaching in the general education curriculum," explains Dr. Rebecca Hoey, director of Northwestern College Graduate School & Adult Learning. "The consortium enables students in humanities majors at Northwestern and elsewhere to access a breadth of upper-level courses online."
"The process for inclusion in the consortium was highly competitive, and we are honored to be chosen to participate," says Northwestern President Greg Christy.
Members of Northwestern's CIC consortium team in addition to Hoey are Sandy Van Kley, Northwestern's registrar, along with two Northwestern faculty members with experience teaching online humanities courses—philosophy professor Dr. Randy Jensen and English professor Dr. Michael Kensak.
Jensen and Kensak will receive stipends to develop online courses for a consortium catalog for the 2017–18 academic year. Jensen will offer a course titled Philosophy and Science Fiction, and Kensak will offer History of the English Language. Their courses will be available to students from any consortium II institutions, and Northwestern students will be able to enroll at no extra charge in courses taught by professors at any of the 20 other colleges and universities. A list of consortium II institutions has not yet been published.
Courses from the first round of humanities course development were offered this academic year to students at the 20 institutions in consortium I, a group of independent, liberal arts colleges from 13 states. Two Iowa colleges, Grand View University and Wartburg College, were part of consortium I.
More than 600 colleges and universities across the U.S. belong to the CIC, which serves small and mid-sized independent, liberal arts colleges with resources for campus leaders and administrators and support for improved curriculum and instruction.