History prof receives faculty service award
Tuesday, May 6, 2014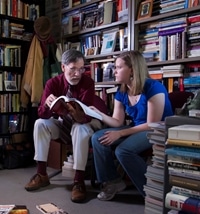 Dr. Doug Anderson, professor of history at Northwestern College, is the recipient of the college's 2014 Faculty Inspirational Service Award. His selection was announced at a recognition banquet for faculty and staff on May 5.
The award recognizes faculty members who consistently provide outstanding contributions by going above and beyond what is expected, who personify a strong Christian commitment, and who distinguish themselves as an inspiration to the campus community. A selection committee composed of faculty and staff chose the winner from among candidates nominated by Northwestern employees.
Over the years Anderson has spent much of his spare time helping with Northwestern's archives. "He's clearly been the campus leader in Northwestern's archival collections," says Greta Grond, systems librarian. "He developed a new system of organization, which makes arrangement more intuitive and easier to manage. He's also pursued grants that helped further develop the archives, such as getting Northwestern's first digital collections online and collating and describing key collections."
Anderson was set to take a sabbatical in 2009, but he agreed to serve as interim director of the library instead. During that time he also chaired the search committee for a new permanent director. "His cheerful attitude during his time at the library was exactly what the staff needed," says Sherri Langton, cataloger/library systems specialist.
Anderson has involved students in innovative projects, including a newly published book about Orange City and a website about progressivism in Iowa. Heather Sas, a 2006 graduate who now works as acquisitions and serials coordinator in Northwestern's DeWitt Library, describes Anderson as "an infectious professor who inspires students to dig further into the topic being discussed. It's one thing to be passionate, but sparking that passion in others is a rarer but delightful gift. He seeks strong relationships with students, encouraging them to stop by his office to discuss their studies with them and offering patient and knowledgeable guidance when they do," she says.
"Doug personifies the inspirational service award as someone who quietly serves Northwestern, living out what it means to be a Christian teaching in the liberal arts," says Brenda Meyer, academic affairs assistant. "He is always willing to go the extra mile by taking minutes for faculty committees, and he volunteered to serve on the first Day of Learning in Community committee. His teaching is the epitome of the integration of faith and learning—something that can only be achieved if you are a person of strong Christian commitment."
A member of Northwestern's faculty since 1989, Anderson is retiring this year. He earned a doctorate in American religious history from the Graduate Theological Union in Berkeley, Calif. He is co-author of "Pilgrim Progression: The Protestant Experience in California," and his articles and book reviews have been published in Western Historical Quarterly, Religion and American Culture, and Fides et Historia. He received the Arrington-Prucha Prize from the Western History Association in 2003 for the best essay on the American West's religious history, as well as the 1994 Woodrow Wilson Award from the Presbyterian Historical Society.