Northwestern history prof contributes to book
Wednesday, August 21, 2013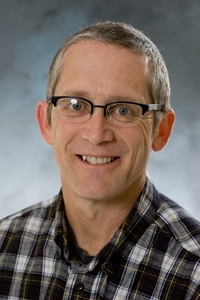 Dr. Michael Kugler, professor of history at Northwestern College, contributed a chapter to "Frankenstein and Philosophy: The Shocking Truth" as part of Open Court Publishing's philosophy and popular culture series.
The volume was edited by Nicholas Michaud, assistant professor of philosophy at Florida State College in Jacksonville. The book's essays from 25 scholars offer insight into the themes, relationships and issues of morality raised in the popular horror franchise.
Kugler's chapter, entitled "Adopting Frankenstein's Creature," argues that Mary Shelley's novel, published in 1818, isn't really about a mad scientist and his famous experiment. Instead, Kugler suggests Shelley used the relationship between Dr. Frankenstein and his creature to work out the meaning of her own tumultuous personal life as Europe was transformed by the French Revolution.
"Shelley used Frankenstein and his creature to test ideas of duty and creativity in relation to an intimate circle of close family and friends," explains Kugler. "She created one of the most powerful and enduring modern myths by reworking one of our oldest stories—the story of the creation, rebellion and the fall in the wake of Enlightenment, revolutionary and Romantic challenges to ancient regime society."
Kugler argues that Frankenstein's failures as a father figure transformed the creature's temperament from a gentle disposition to one of solitude and violence. "Through this transformation, Shelley implicitly asks what would have happened if Frankenstein had adopted the creature into his own intimate circle, and if we ourselves took in such a creature."
A member of Northwestern's faculty since 1994, Kugler is the 2006 recipient of the Northwestern Teaching Excellence Award. A specialist in 18th-century Enlightenment history, Kugler has presented his research at conferences in Ireland, as well as at the American Society of 18th Century Scholars and the Conference on Faith and History.
Kugler earned a doctorate in history from the University of Chicago and a master's degree in history from Western Washington University.