Northwestern offers iPad yearbook
Friday, June 14, 2013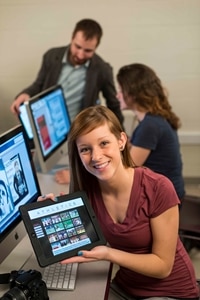 The Northwestern College yearbook has moved into the digital age, as an iPad application commemorating the 2012–2013 school year is now available at the Apple App Store. The app, which includes photo slideshows of athletics teams, dorm life, performing arts and service projects, is downloadable for free.
The app came out of a collaborative effort between Northwestern's advancement office, Help Desk Manager Matt Austin and students in a Multiplatform Communication course taught by Dayne Logan, mass communications instructor. Logan, who joined the faculty last fall, came up with the idea for the application after learning the college no longer produced a print edition of the yearbook. He was looking for an app-building project for a new class that launched this spring.
A team of five students in Logan's class spent the majority of the spring semester building the application. Emilee Berry, Katie Krebs, Kara Nonnemacher, Sara Van Gorp and Meridel Weitz worked together to design the application, collect photos, shoot video and weave the various elements into a cohesive package. Along the way, students were advised by Logan, Austin and Mark Bloemendaal, director of alumni relations.
"App development is not something a lot of major universities, let alone small colleges such as Northwestern, have taken on just yet," says Logan. "The students who built the app should have something in their portfolios that none of their peers from other colleges will have. That's a pretty cool thing."
Although the first edition of the digital yearbook is only available for the iPad, Logan says iPhone and Kindle Fire compatibility could be added to future editions. "We wanted to keep things simple this time around with the hope of improving on the app's functionality and accessibility with each subsequent release."