Annette Vander Kooi Minnick '88 Associate Professor of Communications; PR Program Director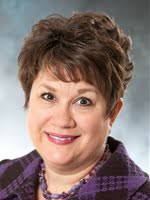 Education:
M.A., University of Iowa
B.A., Northwestern College
712-707-7026
aminnick@nwciowa.edu
VPH 205B
Before being recruited to teach communications and public relations at Northwestern, Professor Minnick was the public relations director for the Orange City Area Health System, overseeing both their regional marketing and corporate communications. She has also coordinated public relations and marketing efforts at Avera McKennan Hospital in Sioux Falls, S.D., the University of Iowa Hospitals and Clinics in Iowa City, and the Grinnell (Iowa) Regional Medical Center.
Minnick is a certified public information officer by the Iowa Department of Public Health and the United States Department of Homeland Security. She also served as secretary for the Iowa Hospital Association Marketing and Public Relations Society. A finalist for the 2015 Teaching Excellence Award at NWC, she has guest lectured on public relations topics at regional colleges and universities, and is active in speaking at academic conferences and to professional organizations. She also works as a consultant and freelance public relations specialist for local, state and national nonprofits. Her areas of expertise are media relations, communication audits, crisis communications and incident command, organizational communication and branding.
She has served as a volunteer family advocate for Habitat for Humanity, a loaned executive to and on the marketing committee for Sioux Empire United Way, and in leadership roles for other community organizations. A leader in the Iowa Communication Association, Minnick is the business manager of the Iowa Journal of Communication. She is certified as a speech judge by the Iowa High School Speech Association and is a high school individual speech coach.