Communications prof elected business manager of Iowa journal
Wednesday, March 20, 2013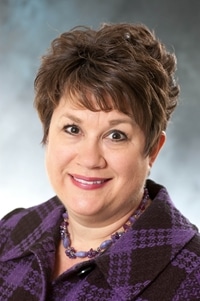 Ann Vander Kooi Minnick, assistant professor of communications at Northwestern College, was elected business manager of the Iowa Journal of Communication during the February meeting of the Iowa Communications Association.
The Iowa Journal of Communication is a semi-annual publication of the association and publishes a collection of scholarship on a variety of communication topics. The journal includes reviews, reflective pieces and manuscripts that are philosophical, theoretical, critical or empirical in nature.
As business manager, Minnick is responsible for managing all advertising and journal distribution to subscribing members, as well as national and international library subscriptions. She also works with EBSCO regarding subscriptions and with the Library of Congress concerning copyright. Minnick will manage communication regarding the journal and manuscript contest, and will also oversee the journal's financial management.
A member of Northwestern's faculty since 2007, Minnick directed community relations for the Orange City Area Health System for eight years. She also worked in public relations and marketing for hospitals in Sioux Falls, S.D.; Iowa City, Iowa; and Grinnell, Iowa.