Communications prof presents paper
Monday, October 1, 2012
Ann Vander Kooi Minnick, assistant professor of communications at Northwestern College, recently presented a paper at the Iowa Communication Association conference in Ankeny.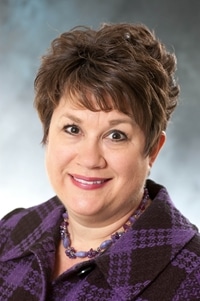 Minnick presented "Ethics and Your Digital Footprint" as part of the conference's theme of "Digital Directions: Communicating and Learning in the 21st Century." She discussed the importance of managing the trail communication professionals leave in cyberspace through email, texting, blogging, social networking and other digital communication.
A member of Northwestern's faculty since 2007, Minnick directed community relations for the Orange City Area Health System for eight years. She also worked in public relations and marketing for hospitals in Sioux Falls, S.D.; Iowa City, Iowa; and Grinnell, Iowa.