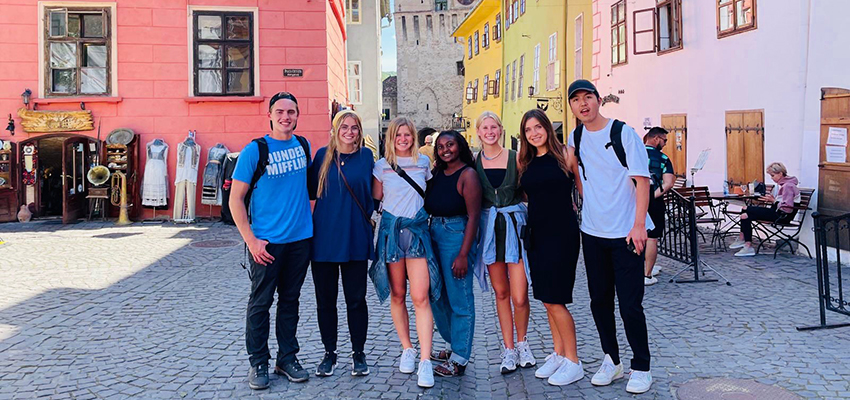 College is the perfect time to go places you've never been. By studying abroad, you'll experience other cultures firsthand, grow in independence and confidence, and maybe even learn a new language. The best part? Your overseas learning can count toward your college degree and might even help you graduate faster.
Here are some other perks of taking anywhere from a month to a semester to study abroad:
Make cross-cultural connections.

By observing people's daily routines, sampling their culinary creations and engaging in everyday conversations, you'll learn plenty about a country's residents and their way of life. You will likely make some international friends—and because study abroad programs often draw college students from across the United States, you could develop relationships with students from other American colleges and universities. When you return to campus, you'll bring fresh insights that will challenge and inspire your peers. That's why Northwestern College provides study and service opportunities around the world.

Grow in global perspective—and stand out to future employers.

As you settle into your new surroundings, you may find yourself becoming more aware of the culture you grew up in and how it compares to where you're studying. This insight—along with coursework taken in a foreign language or in cultural studies—will set you apart from your peers when you apply for jobs or graduate schools. Employers will value your experience interacting with people outside the U.S., as well as your willingness to adapt to a new environment.

Go on an adventure! (With support from the experts.)

If you pursue a study abroad experience with your college, chances are they'll help you apply to the program, make travel arrangements, and apply for a visa. Northwestern College's global education office provides these services to any student enrolled in our award-winning Romania or Oman semesters. If you apply to a program with another school, our helpful staff members will check in to see how things are going, offer opportunities for orientation before you go, and set up a time to discuss your experience once you return home. Plus, study abroad programs have on-site staff to help you navigate any challenges and process the experience. .

See the world without spending a wad.

Many schools allow you to apply 100% of your financial aid to a semester abroad—especially if the experience is a requirement for your major. If you pursue a program that's not sponsored by your college, the chances of keeping your full financial award aren't as great, but you may be able to use at least a portion of those funds to pay for your study abroad experience. Northwestern also offers 3- to 4-week summer study abroad courses, which introduce students to new places without requiring a semester-long commitment. These experiences are led by Northwestern professors, are often a strong complement to a major's coursework, and meet cross-cultural requirements.

Earn academic credit toward your degree.

Some colleges include a foreign language or cross-cultural class as part of the requirements for their general studies core or for a specific major. In many cases, you can meet that requirement with study abroad experience, perhaps by taking a language class in a country where English isn't the primary language.
Wherever your college journey takes you, be sure to carve out time to explore the world around you. Once you step outside your comfort zone, you'll be surprised by the unique places—and people—that are part of God's amazing creation.
Northwestern offers its own summer and semester-long study abroad opportunities and also partners with programs in more than a dozen countries around the world. Visit nwciowa.edu/study-abroad to learn more.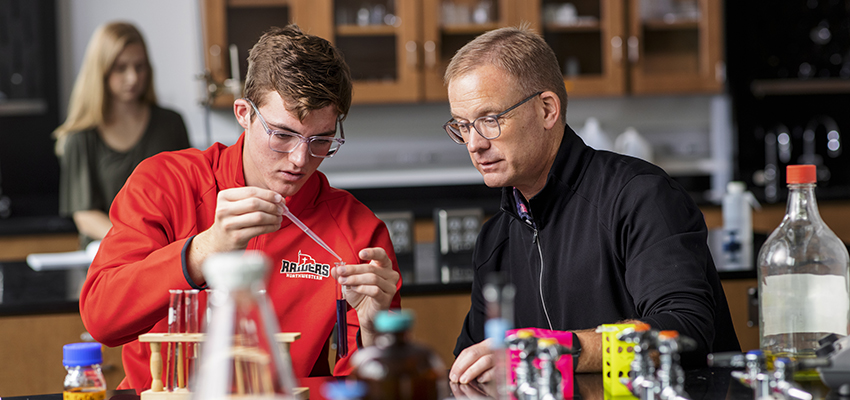 The college search presents plenty of options—each with its own selection of academic programs, financial aid offerings and co-curricular activities. But what about a college that shares your Christian values and beliefs? For some high schoolers, being part of a community where their faith can flourish is just as important as learning from top profs or being recruited to a fine arts or athletic program.
Here are a few reasons why a Christian college might be the right fit for you—and how it leads to spiritual growth, lifelong friendships, and success in your education, career and life.
Be surrounded by people who care about you.

Christian colleges are usually smaller in size, so you'll enjoy small classes with personal attention from your professors. At large universities, teaching assistants often do much of the lecturing, but on a smaller campus, you'll learn directly from your professors—and better yet, get to know them. At Northwestern College, we emphasize the value of community—because you simply learn better and grow more when others know and care about you. It's one reason we worship together in chapel twice a week, plan student events that foster friendships, and have professional resident directors who serve as live-in mentors in the dorms.  

Integrate your faith into daily learning and living.

Chapel services, praying in class, and dorm Bible studies are all things you might experience at a college that's intentionally Christian. Other colleges and universities might have Christian ministry groups, but Christ-centered discussions in the classroom or in everyday interactions will be rare. That's one of the reasons Northwestern's faith integration stands out—our professors are eager to discuss what serving God looks like in their fields of expertise, so you'll be prepared for a career that's rooted in faith. You'll also explore questions about the Bible and Christianity with other students during weekly D-Groups (discipleship groups) in the dorms.

Engage in hands-on service—locally, nationally and across the globe.

Did you love participating in high school mission trips? If so, you should pick a college where you can do even more! Many Christian colleges connect students with volunteer ministry and mission opportunities in their region (and these experiences look great on a resume). Northwestern students love to serve others—so much so that many spend their spring or summer breaks working with churches, homeless shelters, refugee camps and other nonprofit organizations on Spring Service Partnerships or a Summer of Service.

Meet other students who are passionate about God and be held accountable in your faith journey.

College is a hugely formative time. The relationships you form and the impact they have on you and your character could last a lifetime, so it's beneficial to attend a school where others share your core values. You'll still encounter people who see the world differently from you, but your shared faith in Jesus Christ can provide common ground for conversation and growth. You'll also find that Christian college towns are usually home to churches that welcome students with open arms (and sometimes, a free meal). That spirit of hospitality might make your transition away from home a little easier—and help you find spiritual support during your college years.

Prepare for a career—and a life—that makes a difference.

When faith is at the center of your college experience, you'll have more opportunities to explore God's call and how to use your unique gifts in the world. We think Northwestern College is the best place to do just that. Raiders aren't just top accountants, skilled physicians and creative teachers; they're also faithful spouses, caring parents and dedicated community members. No matter where life takes you, a Northwestern education will empower you for success at work, at home and in the world.