Northwestern College student wins annual festival design contest
Wednesday, May 9, 2018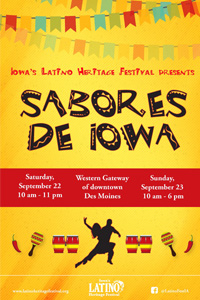 Marketing materials for Iowa's 2018 Latino Heritage Festival will feature the design of Elise Arant, a sophomore art/graphic design major at Northwestern College.
Arant's colorful poster uses iconic images and vibrant yellows and reds to present the theme of this year's festival: Sabores de Iowa, or "Flavors of Iowa." As the contest winner, she will receive a $1,000 scholarship.
Arant's design was created as part of an assignment for an advanced graphic design course taught by Phil Scorza, associate professor of art. "The bright primary colors Elise uses, along with the visual motion of the flag banners, just shouts 'festival,'" says Scorza. "Poster designs are intended to demand a person's attention, and Elise's design will do that throughout the state of Iowa."
Arant, the daughter of Brian and Patricia Arant of Omaha, Neb., is the second Northwestern student to win the design contest. In 2014, a poster by Elizabeth Guthmiller was chosen to promote that year's festival. Guthmiller graduated from Northwestern in 2015 with a major in business administration/marketing.
Iowa's Latino Heritage Festival is a family-oriented event held each September in Des Moines. The state's largest ethnic event, it is designed to promote a better understanding of and appreciation for Latino culture. The two-day festival features music, dance, food, children's activities, arts and cultural exhibits from Central and South American countries.
This year's festival is scheduled for Sept. 22 and 23 at the Western Gateway Park in downtown Des Moines.