Northwestern student artwork part of juried exhibition
Wednesday, April 11, 2018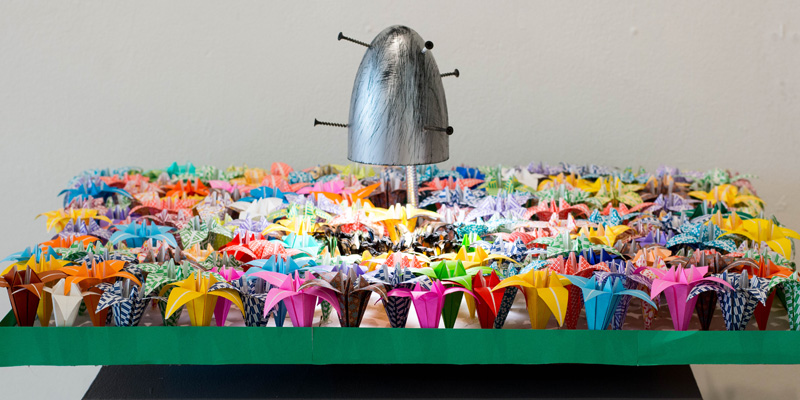 Northwestern College's final art show of the academic year will feature work chosen as part of a juried exhibition. The selected entries will be on display in the Te Paske Gallery April 23 through May 4, with a public reception scheduled for Friday, April 27, at 7 p.m.
Northwestern's annual Juried Student Art Exhibition gives the college's art students the opportunity to test their work with each other and to have the results of that competition exhibited. The show will feature paintings, drawings, prints, sculpture, ceramics and photographs, as well as mixed media and graphic design projects. While the students are not required to be art majors, all entries must be work created as part of a Northwestern College art course.
Judy Thompson, an Orange City artist, is serving as the juror for the show. She will announce awards and offer comments about her selections during the April 27 reception.
Thompson's watercolor paintings, which depict America's heartland, have won regional and national awards and been displayed in solo and juried group exhibitions throughout the Midwest. They are part of permanent collections in state buildings, historical societies, hospitals and national parks. She is a signature member of the Iowa Watercolor Society and Artists of the Black Hills, as well as an approved teaching artist for the South Dakota Arts Council. She has also served as an artist-in-residence with the National Park Service.
Through a grant awarded by the Iowa Arts Council, Thompson's "Homestead Series" exhibit toured the Midwest in 2012 to celebrate the 150th anniversary of the Homestead Act. Her art is also on the cover of "Pioneer Girl: The Annotated Autobiography of Laura Ingalls Wilder" and "Pioneer Girl Perspectives," both published by the South Dakota Historical Society Press.
The Te Paske Gallery is located in the Thea G. Korver Visual Arts Center, on Highway 10 at 214 8th St. S.W. in Orange City. Gallery hours are 8 a.m. to midnight Monday through Saturday and 1 p.m. to midnight Sunday.