Northwestern graduate Osiris Ordaz to present senior art exhibit
Wednesday, March 28, 2018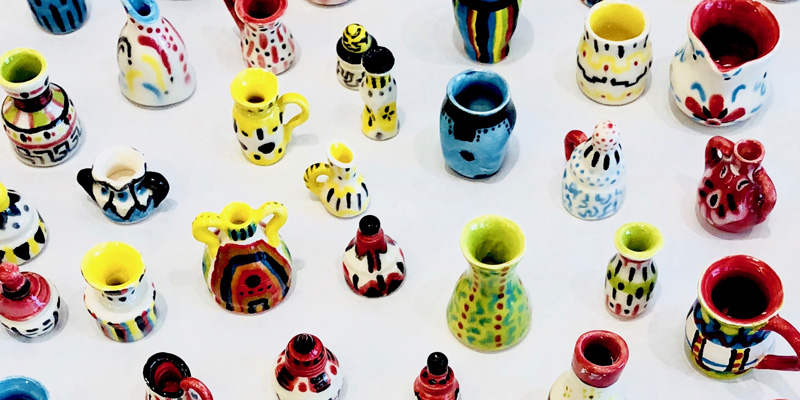 "Mexi Minis," a collection of wheel-thrown ceramics, is among the works that will be exhibited during Osiris Ordaz's senior art exhibit at Northwestern College's Te Paske Gallery April 9–13.
Osiris Ordaz, a December Northwestern College graduate from Berwyn, Ill., will present her senior art exhibit in the college's Te Paske Gallery April 9–13. A closing public reception is scheduled for Friday, April 13, at 7 p.m.
Ordaz's artwork reflects her Mexican and American roots and is inspired by family traditions, Mexican patterns and colors, and stories from her family's past. She titled her show "Unbalanced" because she has come to accept that there is no perfect balance between her two cultures.
"I am a combination of both cultures that are deeply rooted in my faith, family, friends and the experiences I have overcome that make up who I am," she says.
The majority of Ordaz's exhibit will consist of thrown and hand-built ceramics, but it will also include oil painting on wood, knitting, and linocut and silkscreen prints.
Ordaz is the daughter of Sergio Ordaz and Noemi Galvan of Westchester, Ill. She completed her Northwestern education last semester with majors in art and psychology. This fall she will begin graduate studies at Adler University in Chicago, where she was accepted into a master's degree in counseling: art therapy program.
Northwestern's Te Paske Gallery is located in the Thea G. Korver Visual Arts Center, on Highway 10 at 214 8th Street SW in Orange City. Gallery hours are 8 a.m. to midnight Monday through Saturday and 1 p.m. to midnight Sunday.