Northwestern student Ya-Wen Liu to present senior art exhibit
Thursday, March 15, 2018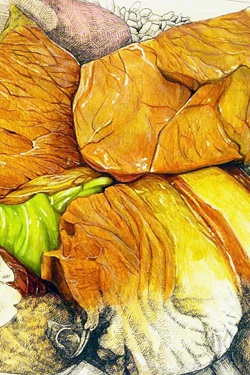 Ya-Wen Liu, a Northwestern College student from Taiwan, will present her senior art exhibit in the college's Te Paske Gallery March 27 through April 6.
"Becoming Me" will include watercolor and oil paintings by Liu, as well as photographs, sculptures, pen and pencil drawings, and screen and monotype prints. A public reception is scheduled for Friday, April 6, at 7 p.m.
Liu's show focuses on her memories and emotions during her years at Northwestern—the homesickness she felt for her family and country; the challenges of studying in another language; and the friends she made in the U.S. "Every feeling and difficulty I have gone through has made me who I am today," she says. "Every view I have seen, every person I have met and every moment I have been through, it becomes part of me. So although there may not be images of 'me' in my show, there are foods, people and views that are part of who I am."
After graduating from Northwestern College this spring with a major in art, Liu plans to attend the Lost Boys Studio in Vancouver, B.C., Canada, an internationally renowned school of visual effects.
Northwestern's Te Paske Gallery is located in the Thea G. Korver Visual Arts Center, on Highway 10 at 214 8th Street SW in Orange City. Gallery hours are 8 a.m. to midnight Monday through Saturday and 1 p.m. to midnight Sunday.