Northwestern art major's design wins logo competition
Wednesday, March 7, 2018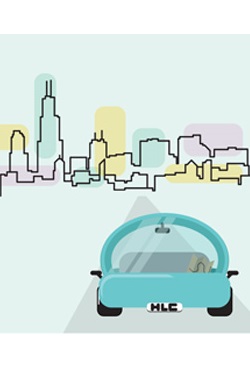 A design created by Lauren Weber, a Northwestern College junior art/graphic design major from Orange City, has been selected to be used in promotion of the 2019 conference of the Higher Learning Commission (HLC). Weber will receive a $1,500 prize.
More than 100 submissions were entered in the HLC's design contest from students, faculty and staff of HLC-affiliated institutions. Weber's design was chosen as one of six finalists and won based on getting the most votes—more than 2,000—in an online poll.
The conference's theme will be "Roadmaps for Student Success." Weber's design, created as part of an assignment in Phil Scorza's Graphic Design II class, features a blue car and the Chicago cityscape in the background.
"I see success as a journey—an experience—similar to a road trip," wrote Weber in her description of the design. "To reach the end, you may need a plan to guide you. The roadmap seen in the car symbolizes the actions that need to be taken in order to reach a goal. The goal depicted in this design is the colorful Chicago seen in the distance. It waits to take students in and celebrate with them in their success. The road leading the car is providing the path for students to reach their goal."
Scorza says Weber's design reflects the conference theme by showing that institutions of higher learning work with students to create success. "The wonderful thing is that this identity is simple but yet complex. It tells the story well," says the art professor.
Weber says she wanted a design that was fun, exciting and cheerful. She started with a blue car similar to her Volkswagen Beetle and used pastel squares that worked well with the blue to accentuate the skyline. "It was a fun project. I'm so grateful for all the support I received from friends, family, the campus and the community," she says.
This is the second time a Northwestern College student's design has won the HLC contest. The logo designed by 2015 Northwestern art graduate Claudia Bomgaars was chosen to promote the 2015 conference.
The Higher Learning Commission is an independent corporation that was founded in 1895 as one of six regional institutional accreditors in the United States. The organization accredits degree-granting post-secondary educational institutions in the North Central region, which includes 19 states.