Northwestern student Shelby Maznio to present senior art exhibit
Wednesday, March 7, 2018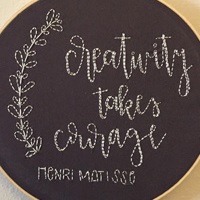 Shelby Maznio, a Northwestern College student from Buffalo, Minn., will present her senior art exhibit in the college's Te Paske Gallery March 19–23.
Titled "Art of Words," Maznio's show will feature ceramic mugs and bowls, embroidered hoops, screen printings, and watercolor and graphic design lettering. A public reception is scheduled for Tuesday, March 20, at 7 p.m.
Maznio is an art/graphic design and journalism major at Northwestern. Her show combines her love for writing and art and explores different forms of lettering and mediums. "I'm intrigued by lettering and the ability to artistically display words," she says. "There's so much beauty in the written word, and I want to express that in my artwork."
The daughter of Mark and Judy Maznio of Buffalo, Maznio plans to move to Sioux Falls, S.D., and work in a communications field—such as advertising, writing or design—after graduating from Northwestern this spring.
Northwestern's Te Paske Gallery is located in the Thea G. Korver Visual Arts Center, on Highway 10 at 214 8th Street SW in Orange City. Gallery hours are 8 a.m. to midnight Monday through Saturday and 1 p.m. to midnight Sunday.