Art major's design chosen as finalist in logo competition
Thursday, February 22, 2018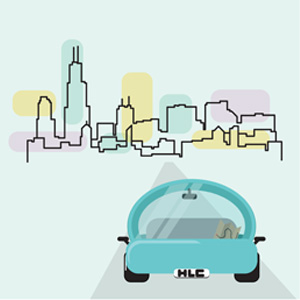 A design created by Lauren Weber, a Northwestern College junior art/graphic design major from Orange City, has been chosen as one of six finalists for the logo for the 2019 conference of the Higher Learning Commission (HLC). The winner will be chosen through an online poll.
Votes for her design, which features a blue car and cityscape in the background, can be submitted online through Wednesday, Feb. 28. The conference's theme will be "Roadmaps for Student Success."
Weber's logo was developed as part of a class assignment for advanced graphics students. The logo designed by 2015 Northwestern College art graduate Claudia Bomgaars was chosen by the HLC to promote its 2015 conference.