Print by Northwestern art professor included in Illinois exhibit
Wednesday, February 21, 2018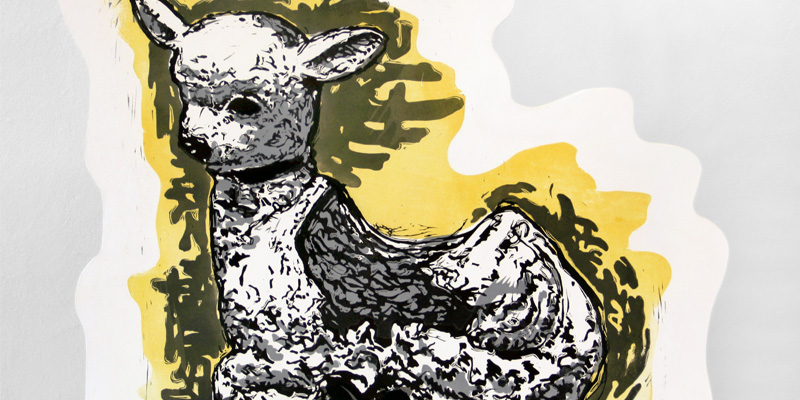 "Cracked Lamb," a linocut and acrylic mounted on wood by Northwestern College art professor Emily Stokes, is part of a national juried printmaking exhibition in Illinois.
A print by Emily Stokes, associate professor of art at Northwestern College, was accepted for display in the 2018 Four Rivers Print Biennial, a national juried printmaking exhibition.
The exhibition is sponsored by Southern Illinois University and on display through March 23 at the Artspace 304 gallery in Carbondale, Ill. Lisa Bulawsky, associate professor of printmaking at Washington University in St. Louis, Mo., served as the juror. She reviewed 203 submissions and accepted 69 for the show.
Stokes' print, "Cracked Lamb," is part of a series featuring contemporary iconography that reflects Christian symbolism and conveys deeper meanings. The three-plate linocut was printed on paper and mounted on wood, which was then shaped with a jigsaw. Acrylic paint provided the finishing touch for the two-dimensional piece.
Stokes earned a Master of Fine Arts degree in printmaking from Arizona State University. Her work has been featured in juried printmaking and all-media exhibitions in 15 states ranging from New York to Washington and Louisiana to Minnesota. She won the purchase award at the 29th Annual McNeese Works on Paper juried exhibition and was selected for the Council of Independent Colleges Summer Seminar, "Dutch Art, Patrons and Markets," at the High Museum of Art in Atlanta.