Work by Northwestern art professor selected for Missouri gallery exhibition
Thursday, February 8, 2018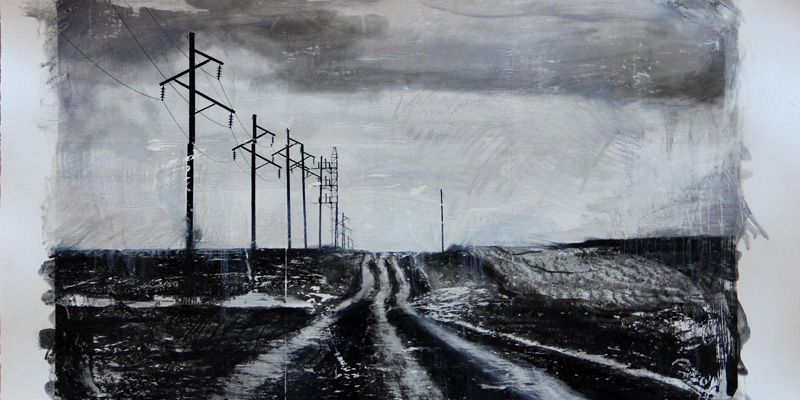 "Level B," a pigment transfer with graphite and colored pencils created by Northwestern College art professor Phil Scorza, is on display as part of a photography exhibit near St. Louis.
Work by Phil Scorza, associate professor of art at Northwestern College, is on display at the Foundry Art Centre in St. Charles, Mo. "Level B" was accepted for the centre's Photography 6 exhibit, on display now through March 16.
Photography 6 captures the breadth within the photographic world. All works have a photographic origin, whether manually or digitally manipulated or incorporated into mixed media pieces. The juror for the show was Kathleen Sanker, professor of art and chair of graphic design at Saint Charles Community College.
Scorza's piece is a photograph of a mud road west of Orange City taken during the winter. "I was shooting something else when I noticed the unique way the light snow hit the ruts and created this high contrast," he says.
Scorza manipulated the digital photo, enlarged it, and printed it in segments on a laser printer. He then used matte medium to transfer the toner to Arches paper, after which he drew on the image with graphite and gray colored pencils, liquefied the graphite, and used paintbrushes to move the graphite around on the image.
"I'm exploring other ways to do photography, hence the pigment transfer and working back into pencils," Scorza says. "It's not that I'm reinventing photography, but I'm trying to rethink photography because people seem to be taking it less seriously."
Scorza has a Master of Fine Arts degree in visual art from Lesley University College of Art and Design and a bachelor's degree in graphic design from Iowa State University. Prior to joining Northwestern's faculty, he spent more than 20 years as a graphic designer and creative director in the corporate setting and as a freelancer. He frequently uses his art to serve nonprofit and community-based organizations.