Northwestern to present retrospective of John Kaericher's artwork
Wednesday, December 27, 2017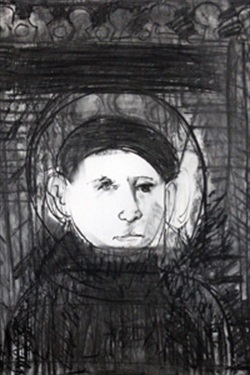 A retrospective of artwork by longtime Northwestern College art professor John Kaericher will be on display in the college's Te Paske Gallery Jan. 9 through Feb. 23.
The show will include prints and drawings produced by Kaericher while he taught at Northwestern. The drawings are charcoal on paper, while the prints consist of etchings with aquatints.
"This retrospective honors John's contributions to Northwestern as both an artist and faculty member," says Emily Stokes, associate professor of art and director of the gallery. "His work shows how much he loved the process of creating, whether with gestural strokes of charcoal or etching needles and roulettes. The topographical surfaces of his copper plates reveal hours of revision, and the resulting impressions hold rich tonal ranges."
Kaericher died May 31 at the age of 80 after a long battle with cancer. He joined Northwestern's art faculty in 1963 after earning a Master of Fine Arts degree in printmaking from the University of Iowa. During his 42-year career at NWC, he developed the art major, founded the permanent fine arts collection and art gallery, and brought numerous visiting artists to campus.
Kaericher's art was displayed in more than 30 solo exhibitions and over 115 group exhibitions throughout the U.S. and in the Netherlands.
Northwestern's Te Paske Gallery is located in the Thea G. Korver Visual Arts Center, on Highway 10 at 214 8th Street SW in Orange City. Gallery hours are 8 a.m. to midnight Monday through Saturday and 1 p.m. to midnight Sunday.