Northwestern student Camille Visser to present senior art exhibit
Wednesday, November 1, 2017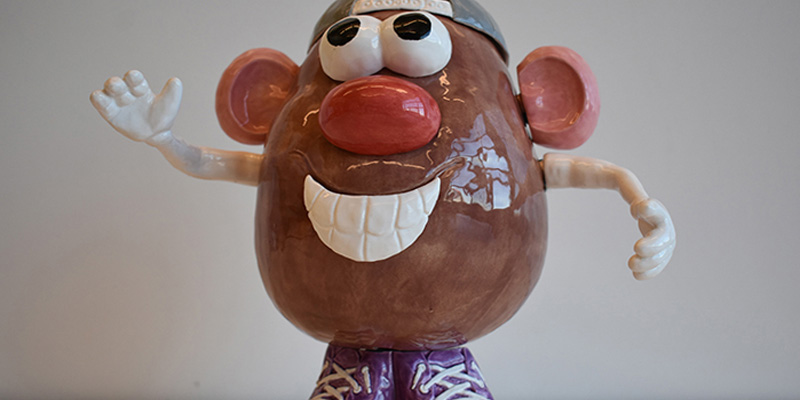 "Create-Your-Own," a sculpture by Northwestern College senior art/graphic design major Camille Visser, is among the works she will exhibit in the DeWitt Learning Commons Nov. 15–21.
Camille Visser, a Northwestern College art/graphic design major from Archer, Iowa, will present her senior art exhibit in the college's DeWitt Learning Commons Nov. 15–21.
Titled "Little Beginnings," Visser's show will include sculptures made from ceramic clay, broken glass or modeling clay, as well as relief, etching and monotype prints. A public reception is scheduled for Wednesday, Nov. 15, at 7 p.m.
Visser began sculpting as a 6-year-old after reading "The Usborne Book of Everyday Words," a children's book illustrated with miniature clay models created by Jo Litchfield. Other inspiration came from animated films by Disney and other studios.
"My work shows how stories have influenced me and how God gives me experiences to inspire my creativity," Visser says. "Every artwork in my exhibition contains personal connections to my life, and I strive to sculpt, draw and paint detailed works that tell my own story."
The daughter of Chad and Vonda Visser of Archer, she plans to study in London during her final semester of college next spring, combining classes with a graphic design internship. She would like to work as a graphic designer and eventually attend an arts school to learn about animation and film.
Northwestern's DeWitt Learning Commons is open Monday through Thursday from 7:30 a.m. to midnight, Friday from 7:30 a.m. to 6 p.m., Saturday from 9 a.m. to 6 p.m., and Sunday from noon to midnight.