Art exhibit to feature woodcarvings by Northwestern College alum
Monday, September 18, 2017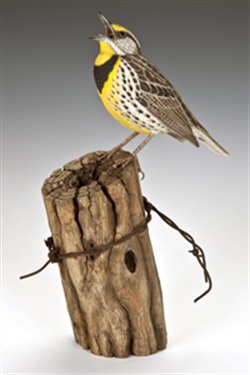 Northwestern College's Te Paske Gallery will feature woodcarvings by Bob Kroese of Pella, Iowa, during an art exhibit scheduled for Sept. 29 through Oct. 20. A reception with the artist will begin at 9 a.m. on Saturday, Sept. 30.
"Wildfowl Sculpture in Wood" will showcase Kroese's skill and passion for wildfowl carving. Twenty-five years ago, he began making duck decoys that, though primitive, showed promise. Today his work has evolved into wildfowl sculptures that portray a broad array of species with biological accuracy and detail.
Kroese uses the wood from tupelo gum trees for his life-size and miniature carvings, finishing them with acrylic paint and brass for some of the habitat. His carvings have won Best of Show at regional and national wildfowl carving competitions, as well as at the Ward World Championships. Starting at the novice level, he progressed through intermediate and advanced stages and—with wins at the highest masters and world levels—now holds the title of Master Wildfowl Artist.
Organizations such as Ducks Unlimited and Pheasants Forever have duplicated and used many of Kroese's pieces to raise more than $2 million for habitat and wildlife preservation. Two of his carvings were chosen for display at the Ward Museum of Wildfowl Art in Salisbury, Md. Kroese also serves on the judging panel at the Ward World Championships.
Kroese graduated from Northwestern College in 1977 with a degree in biology. He has been a hospital chief executive officer for 34 years, serving since 1993 as the CEO of the Pella Regional Health Center.
Northwestern's Te Paske Gallery is located in the Thea G. Korver Visual Arts Center, on Highway 10 at 214 8th Street SW in Orange City. Gallery hours are 8 a.m. to midnight Monday through Saturday and 1 p.m. to midnight Sunday.