Botanical landscape sculptor to display work at Northwestern
Thursday, August 10, 2017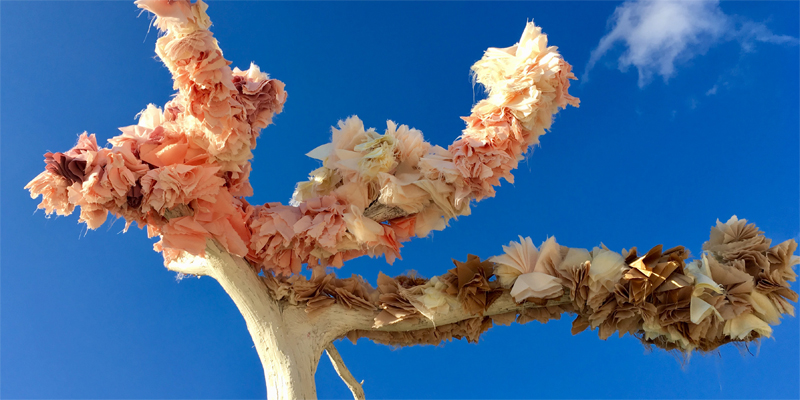 "Until We Meet Again," an installation piece made of fabric, wood, steel and paint by Elissa Wenthe, is one of the works that will be exhibited in Northwestern College's Te Paske Gallery Aug. 22 through Sept. 15.
Imaginative landscape sculptures that depict various botanical forms will be the focus of an upcoming art exhibit by Elissa Wenthe at Northwestern College.
The show, titled "Until We Meet Again," will be on display at Northwestern's Te Paske Gallery Aug. 22 through Sept. 15, with a closing reception scheduled for Friday, Sept. 15, at 7 p.m.
Wenthe is an associate professor of art at Upper Iowa University in Fayette, Iowa. She earned a bachelor's degree and Bachelor of Fine Arts degree from the University of Minnesota and a Master of Fine Arts degree from Ohio University.
For her sculptures, Wenthe chooses materials that are easily manipulated, such as clay, fabric and objects from nature. Wenthe explains that she works "quickly and spontaneously, responding to the materials to create a new form."
"My sculptural language is formed by surrounding landscapes and nature, engaging with themes of memories, identity and place," says Wenthe. "I want my work to suspend one's imagination into a different time or place, creating works inspired by natural beauty and unknown forms."
Wenthe's exhibit at Northwestern will feature four groupings of work: photograms capturing light as an ephemeral source of energy, tiles modeling as a process of active memory, sculptures creating a canopy and autonomous landscape, and ceramic vessels surrounding a living botanical.
Wenthe's work has been exhibited across the United States in both individual and group exhibitions.
Northwestern's Te Paske Gallery is located in the Thea G. Korver Visual Arts Center, on Highway 10 at 214 8th Street SW in Orange City. Gallery hours are 8 a.m. to midnight Monday through Saturday and 1 p.m. to midnight Sunday.