Work by NWC art prof included in exhibition on human trafficking
Wednesday, April 26, 2017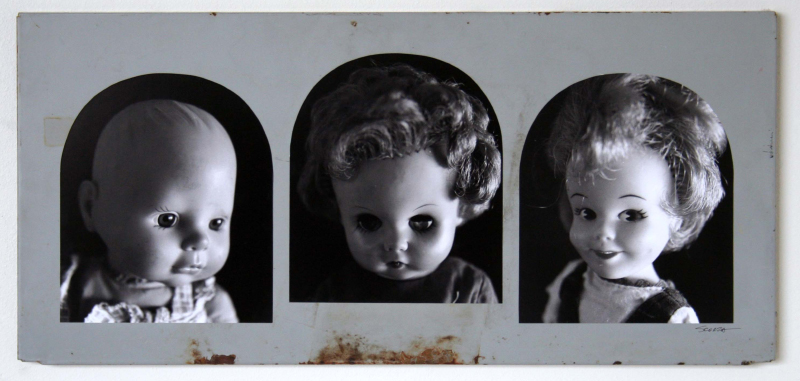 Artwork by Phil Scorza, assistant professor of art and design and department chair at Northwestern College, will be included in Viterbo University's Traffick 2017 juried exhibition Aug. 30 to Sept. 29 in La Crosse, Wis.
The exhibit will also be on display May 11–12 at the 20th annual La Crosse Child Maltreatment Conference.
The juried exhibition will include works around the theme of human trafficking. Artists were invited to create pieces dealing with issues related to the theme, including oppression, invisibility or social justice.
Scorza's piece, created specifically for this show, is titled "Innocence." It is made of three silver-based archival photos mounted onto found metal. Scorza says he photographed dolls because they symbolize being young, young at heart, and what it means to be child-like.
"The dolls I used in these photos are well-loved and their faces are very expressive. They have a certain patina about them that leads one to believe they have been at the center of attention in children at play throughout generations," says Scorza. "We also see a stillness now in these images because they are separated from their 'loved ones' and 'caregivers.'" The images also allude to how childhood victimization and trafficking often occur due to the ease of deception and vulnerability in children.
Prior to joining Northwestern's art faculty in 2011, Scorza worked as a graphic designer and creative director for over 20 years. In addition to teaching photography and graphic design courses at the college, he also uses his expertise to serve nonprofit and community-based organizations. Scorza earned a bachelor's degree in graphic design from Iowa State University and a Master of Fine Arts degree from Lesley University College of Art and Design.