Northwestern to feature work by local artist
Wednesday, September 9, 2015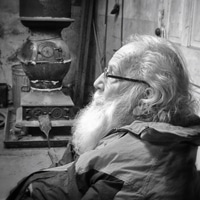 Northwestern College alumnus John Vander Stelt has been creating art—primarily oil paintings—since childhood. A collection of his work in the college's Te Paske Gallery, however, will feature some of the nearly 500 images he has posted to Instagram. Titled "#Snapshots: My Instagram Life," the exhibit will be on display Sept. 21 through Oct. 16, with a public reception scheduled for Monday, Sept. 21, at 7 p.m.
Vander Stelt sees Instagram as a dominant force in today's visual culture. "I love the immediacy of Instagram," he says. "As an artist, I enjoy posting my photos in this endless online gallery. Our photo-sharing obsession and the associated likes and comments influenced the photos I selected to exhibit."
Vander Stelt grew up in northwest Iowa and currently resides in Maurice, Iowa. After graduating from NWC with a major in art, he began work as a production artist and eventually became the senior supervising art director for Staples in Orange City. In 2007 he was hired as the creative director for Pizza Ranch's corporate headquarters, where he is responsible for leading the visual branding for the company's chain of 192 restaurants.
An accomplished fine artist as well as graphic designer, Vander Stelt finds inspiration in the things that surround him—family, small towns and rural life. He has had paintings commissioned for American State Bank, Wells Blue Bunny, the Prairie Wind Events Center, Northwestern College, and the 75th anniversary of the Orange City Tulip Festival.
Northwestern's Te Paske Gallery is located in the Thea G. Korver Visual Arts Center, on Highway 10 at 214 8th Street SW in Orange City. Gallery hours are 8 a.m. to midnight Monday through Saturday and 1 p.m. to midnight Sunday.