Sioux City artist to display work at NWC
Thursday, August 13, 2015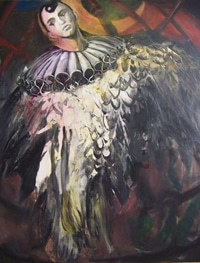 Northwestern College will open its 2015–16 art exhibit season with a show by Sioux City artist Ann Marie McTaggart. Titled "Icons of Our Spirit," the exhibit will be on display in NWC's Te Paske Gallery Aug. 24 through Sept. 11. A public reception is scheduled for Friday, Aug. 28, at 7 p.m.
McTaggart is an experimental painter whose work is centered upon the spiritual and intrinsic self. "I attempt to give the inanimate object of the canvas a vitality and a message," she says. "My usual icon is the bird form. As an artist, I've found that the bird image symbolizes a true spirituality."
Recently McTaggart has begun to explore the world of the Pierrot mimes, theatrical actors who were common in the 18th, 19th, and early 20th centuries. She finds the clowns both mysterious and spiritual and is drawn to how they can represent anyone—male or female, young or old.
McTaggart has both a Master of Arts in fine art studies/painting and a Bachelor of Fine Arts from the University of South Dakota. A nursing graduate of Morningside College, she started her career as an oncology registered nurse before returning to Morningside to study art in the 1990s. Since then, her work has been included in both juried and solo shows throughout the Midwest. Most of her exhibitions have been in Minnesota, Illinois, South Dakota, New York, Wisconsin and Iowa.
Northwestern's Te Paske Gallery is located in the Thea G. Korver Visual Arts Center, on Highway 10 at 214 8th Street SW in Orange City. Gallery hours are 8 a.m. to midnight Monday through Saturday and 1 p.m. to midnight Sunday.