Northwestern senior to display artwork
Thursday, March 19, 2015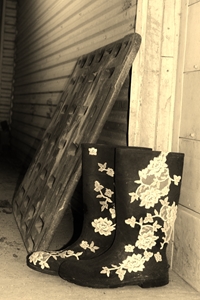 Amelia Thies, a Northwestern College student from Melvin, Iowa, will present her senior art exhibit in the college's Te Paske Gallery March 30 through April 3. A public reception is scheduled for Monday, March 30, at 7 p.m.
Thies is majoring in art/graphic design, with a minor in public relations. Her exhibit, entitled "Pearls, Lace and Manure," is part of the requirements for a bachelor's degree in art.
"I come from generations of farmers, and while I am not agriculturally inclined myself, I still wanted to integrate aspects of farming into my work," she says. Thies' art juxtaposes materials and objects in unusual ways—such as a life-size sculpture of a pig made out of lace. "I love that by using different materials, you can change the look and feel of the piece," she explains. "I've come to enjoy using unexpected materials that conflict with the subject."
Sculpture, photography, etchings and embroidery will be part of the show. Among her art are photos of farm equipment covered in lace; wire line drawings showing the growth and development of a soybean in one curling, continuous line; a drawing of wheat burned into a toasted piece of bread; and 20 etchings of a pig printed on feed bags.
Thies is the daughter of Don and Peggi Thies of Melvin, Iowa. Following graduation, she will work at the Wine Bar and Art Gallery in Okoboji, Iowa, where she'll handle the business's advertising and communication needs while creating art for display in the gallery.
Northwestern's Te Paske Gallery is located in the Thea G. Korver Visual Arts Center, on Highway 10 at 214 8th Street SW in Orange City. Gallery hours are 8 a.m. to midnight Monday through Saturday and 1 p.m. to midnight Sunday.