Northwestern College to host juried art exhibit
Tuesday, October 28, 2014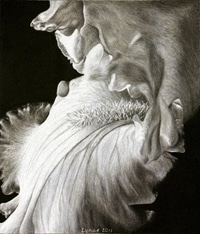 Twenty-two regional artists, including a number of Northwestern students, will be featured in an exhibit at Northwestern College's DeWitt Theatre Arts Center Nov. 13-22. A public reception with the artists is scheduled for Saturday, Nov. 22, from 6-7 p.m.
The juried exhibit will be held in conjunction with Northwestern theatre's production of "The Power and the Glory."
The exhibit will feature works in a variety of media, including ceramics, monotype, lithography, oil and acrylic paint on canvas, watercolors, crayon, charcoal, food products, plaster, photography, linocut and crocheted yarn.
Joanne Alberda of Sioux Center and Joan Brower of Orange City will serve as jurors for the exhibit. They will announce best of show and honorable mention awards during the reception. Cash prizes will be awarded.
The exhibit is co-sponsored by the Orange City Arts Council and Northwestern's art and theatre departments. For more information, call 712-707-4885 or email ocArts@orangecityiowa.com.