Senior to present exhibit on art appropriation
Wednesday, October 22, 2014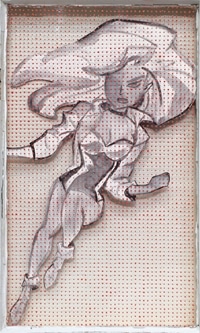 Emilee Berry, a senior art/graphic design major at Northwestern College, will display her mixed media pieces in the college's Te Paske Gallery Nov. 3–7. A public reception will open the show on Monday, Nov. 3, at 7 p.m.
Entitled "So, is it mine?" the exhibit asks how much someone else's work must be altered before it can rightfully be thought of as another's. Berry researched art appropriation and re-contextualization done by other artists in the past as part of her Honors Program studies. The show is a reflection of what she has learned about the topic.
Berry calls the process of finding completed artwork she could re-invent "an exciting challenge." She scoured second-hand stores and auctions, rummaged through forgotten artwork in Northwestern's art building, and inherited pieces from students and faculty.
"I manipulated each of these original pieces to various degrees and am now asking if I can claim them as my own," she says. "I don't intend to make a clear-cut distinction on what is acceptable and what is not in the area of art appropriation, but I do hope this show opens the eyes of all who interact with it to this philosophical and ethical debate."
Berry is the daughter of Todd and Traci Riessen of Battle Creek, Iowa, and Mark Berry of Early, Iowa. In addition to majoring in art/graphic design, she is pursuing minors in arts administration and public relations. She eventually hopes to work for a creative firm doing logo designs and is also considering graduate school.
Northwestern's Te Paske Gallery is located in the Thea G. Korver Visual Arts Center, on Highway 10 at 214 8th Street SW in Orange City. Gallery hours are 8 a.m. to midnight Monday through Saturday and 1 p.m. to midnight Sunday.