Northwestern College to present Christmas Vespers
Wednesday, November 15, 2023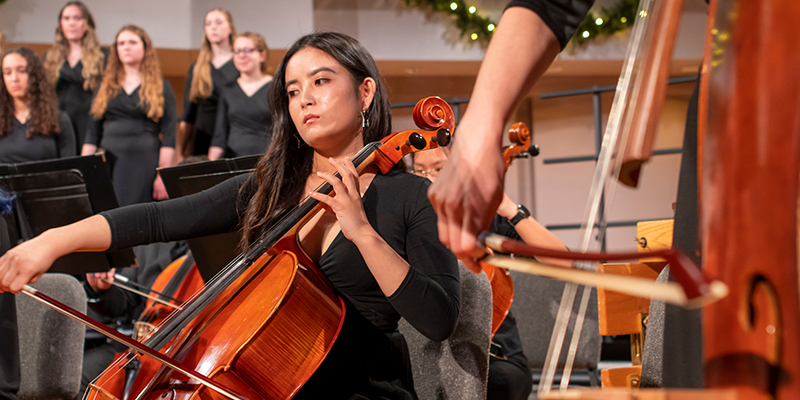 The Northwestern College music department will present its annual Christmas Vespers concerts Saturday, Dec. 2, at 7 p.m. and Sunday, Dec. 3, at 3 p.m. in Christ Chapel. The events are free and open to the public. Watch live.
This year's concerts will center on the theme of "His Star–Our Redemption," reflecting upon the star that led the wise men to find the Messiah and Redeemer. Through music, the A cappella Choir and student soloists will tell a story about a transformative encounter between a young, crippled boy and the three kings on their way to Jerusalem. The Women's Choir, Orchestra, Brass Ensemble and organist MaryLou Wielenga will also perform a variety of reflective and festive musical works.
Among the ensembles' selections are Richard Burchard's "Creator Alme Siderum," a rich blend of both monophonic chant and harmonized chorales; Dan Forrest's arrangement of "See, Amid the Winter's Snow," a much-loved Christmas carol; and Moses Hogan's dynamic spiritual "Glory, Glory, Glory to Our Newborn King," based on "Go, Tell It on the Mountain."
The audience will also be invited to sing many traditional carols. Dr. John Vonder Bruegge, dean of arts and humanities, will serve as narrator for the concert.
---
Northwestern's music department has a tradition of dynamic performances, outstanding faculty and standout educational experiences in an environment committed to glorifying God. Students can audition for one or more of 10 ensembles, having the opportunity to tour around the world and perform in the award-winning Christ Chapel.