Northwestern Spanish prof receives medical interpreter certification
Wednesday, October 12, 2016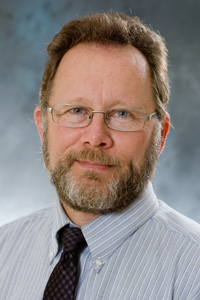 Piet Koene, associate professor of Spanish, translation and interpretation at Northwestern College, has recently been certified as a medical interpreter through the National Board of Certification for Medical Interpreters.
Before he was granted certification, Koene was required to learn and memorize thousands of medical terms, procedure and medications; acquire a strong understanding of the role of medical interpreter; attend a 40-hour workshop on the subject; pass a written exam in English; and pass a verbal exam in both Spanish and English.
The National Board of Certification for Medical Interpreters seeks to foster improved healthcare outcomes, patient safety and patient/provider communication by elevating the standards for and quality of medical interpreting through a nationally recognized and validated certification. The board is an independent division of the International Medical Interpreters Association.
With this new certification, Koene hopes to enhance his role at Northwestern. He offers his advanced interpreting students hands-on interpreting experience with LEP (limited English proficiency) patients in collaboration with senior nursing students.
A member of Northwestern's faculty since 2000, Koene was chosen as Iowa's Professor of the Year in 2004 by the Carnegie Foundation and the Council for Advancement and Support of Education. A state-certified court interpreter for Iowa and Minnesota, Koene is among a handful of people who have reached this top tier of professional legal interpreters for the state of Iowa.
A graduate of Calvin College, Koene earned a master's degree in interpretation and translation from the Monterey Institute for International Studies and a master's degree in Latin American history from the University of Toronto.