NWC student awarded scholarship from Iowa Interpreters and Translators Association
Wednesday, June 22, 2016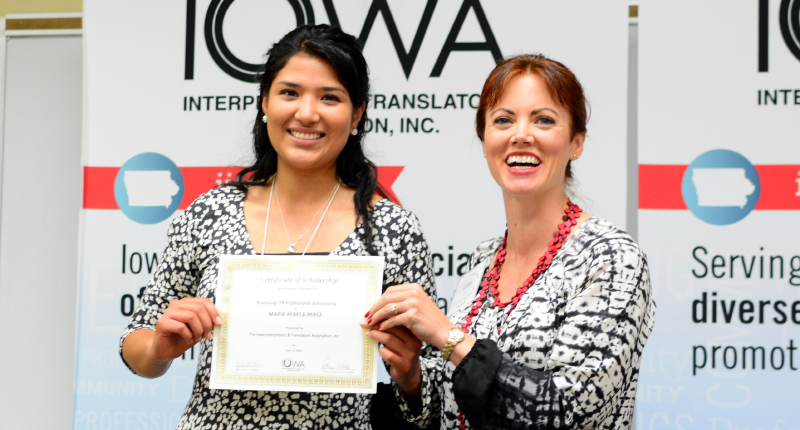 Jeana Clark, president of Iowa Interpreters and Translators Association, presents Maria Rebeca Perez with a scholarship certificate during opening remarks of the organization's 12th annual conference.
Maria Rebeca Perez, a senior translation and interpretation major at Northwestern College in Orange City, Iowa, was awarded the Promising ITR Professional Scholarship during the Iowa Interpreters and Translators Association's (IITA) 12th annual conference June 11 in Des Moines.  
Perez is the first recipient of the scholarship, which was established to encourage and support students studying interpretation and translation (ITR) as they build their knowledge and skills to become industry professionals.
Applicants for the award must be current students enrolled in an interpretation and translation degree or certificate program offered by an accredited college or university in Iowa. The IITA scholarship committee selects one recipient for the award, which provides $200 and paid registration to the organization's annual conference.
Perez is the daughter of Maria Castanon of Algona, Iowa.
Founded in 2004, the IITA is Iowa's premier association of professional interpreters and translators. The organization's primary goal is to serve the state's linguistically diverse community through education, training and promotion of the profession.